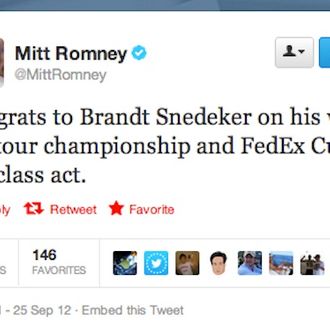 Ah haha. That's marvelous.
Mitt Romney failed miserably in his February attempt to ingratiate himself to NASCAR fans, but he still wants to show that he loves sports. After five weeks of silence on sports and sport-related matter, he congratulated golfer Brandt Snedeker Tuesday for winning the Tour Championship and FedEx Cup championship on Sunday. A little bit late, but why not? (Romney last posted about sports on August 20 to congratulate Condoleezza Rice on her admittance to the previously male-only Augusta National Golf Club.)
Barack Obama actually commented on sports on Twitter today too, about the NFL's replacement referee debacle that came to a head this week on Monday Night Football. "NFL fans on both sides of the aisle hope the refs' lockout is settled soon," Obama wrote, initialing the comment with "bo" to indicate that he and not an aide posted it. Let's get a comment from Romney on replacement referees to test Obama's theory.
Update: From a CNN interview with Romney:
Interviewer: What would you do about those referees in the NFL? Would you order them back to work?

Romney: I'd sure like to see some experienced referees, with NFL experience, come back out to the NFL playing fields.

Interviewer: Paul Ryan called those refs out today. Are you glad that he did that?

Romney: [laughing] That's just fine. Paul was very angry that the Green Bay Packers, he believes, won, and the referees took it away from them.
So, they agree!