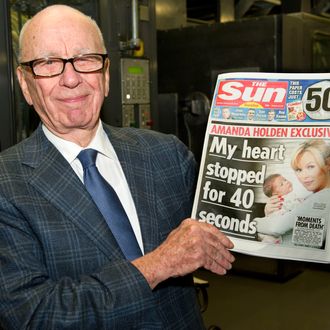 Photo: Handout/2012 News International (NI Group Ltd)
Satellite TV group British Sky Broadcasting has been found to be "fit and proper" to hold a broadcasting license after an investigation into its biggest shareholder, Rupert Murdoch, and his company's shady past of phone hacking. Murdoch himself was not found to have "acted in a way that was inappropriate in relation to phone hacking, concealment or corruption by employees," according to a report by the British regulator Ofcom, but his son James did not fare so well. "We consider James Murdoch's conduct, including his failure to initiate action on his own account on a number of occasions," the findings said, "to be both difficult to comprehend and ill-judged." Still, Ofcom concluded Murdoch wasn't complicit in a cover-up.
Overall, everything is cool: "Ofcom considers that, on the evidence currently available and having taken into account all the relevant factors, Sky is fit and proper to hold its broadcast licenses," the statement said, while promising to look again if more evidence of misconduct appears. "To date, there is no evidence that Sky was directly or indirectly involved in any of the wrongdoing either admitted or alleged to have taken place at News of the World or The Sun."
The bottom line is key here: BSkyB made a net profit of $1.4 billion last year. That's a lot of newspapers.