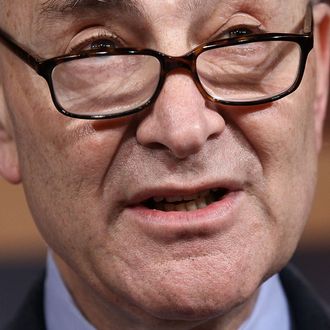 Sen. Charles Schumer (D-NY) speaks about the possibility of a payroll tax cut extension during a press conference at the U.S. Capitol February 16, 2012 in Washington, DC. Senate Republicans and Democrats are nearing compromise on a legislative package that would extend the payroll tax cut beyond its expiration at the end of February and are likely to vote on the agreement tomorrow.
Photo: Win McNamee/Getty Images
Accused sexual harasser Vito Lopez made it clear in an all-caps statement that he intends to remain planted in his Assembly seat despite the many calls for him to step down. Add to the list Senator Chuck Schumer's urging for a resolution demanding that the Brooklyn assemblyman resign. "If the vote is 149–0, I think he'd have to step down," Schumer said, the Daily News reports. Only Schumer didn't factor into the equation that Lopez apparently doesn't care what anyone thinks.