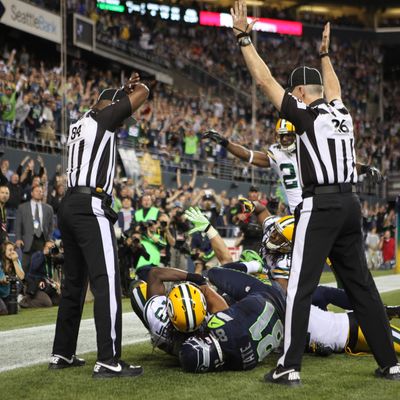 Photo: Otto Greule Jr/Getty Images
How bad was the referee debacle in last night's Packers-Seahawks game? So bad that conservatives were leaping to Twitter to demand that the NFL settle with the locked out* officials' union. So bad that Scott Walker is calling for the NFL to settle:
Now, Scott Walker is an unusual case. He's probably the most cross-pressured man in America on this. On the one hand, he is synonymous with crushing unions, to see them driven before him, to hear the lamentations of their women. On the other hand, he is a Packer fan.
But this is the point. Lots of Americans like football. Football trumps ideology. And the NFL referee lockout is turning into a gigantic advertisement for organized labor. Conservatives have spent decades successfully associating labor unions with laziness and shoddy work. Here we have, broadcast into tens of millions of living rooms all autumn long, a high-profile example of an almost perfectly chosen case for unions. Management consists of multimillionaires commanding a wildly profitable and often publicly subsidized business, trying to squeeze its workforce in a way that's utterly debilitating to the product. 
Ronald Reagan's successful crushing of an air traffic controller strike has gone down in history as a turning point in labor relations, with Walker's breaking of the public employee unions in Wisconsin a coda to that. The NFL referee lockout has the potential to be that kind of seminal event in reverse.
And that, perhaps, is what Walker fears even more than the Packers getting screwed out of a win.
This post has been corrected to reflect the fact that the referees are locked out, not striking.