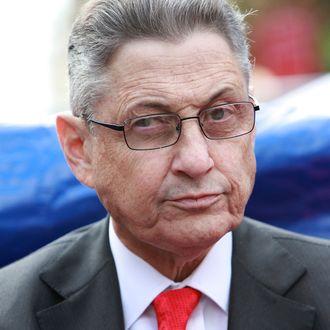 Silver, not pleased.
Photo: Charles Eshelman/FilmMagic
The staffer of Assembly Speaker Sheldon Silver who used a female science-fiction-writing alter ego to defend his boss online has been grounded. Forty-eight-year-old Bill Eggler, a.k.a. Sophia Walker (a.k.a. the Last Goddess), "is being formally reprimanded" and had his Internet access at work revoked after the Post noticed he'd been ranting on Facebook, as Sophia, about the payments Silver shadily approved for the sexual harassment victims of Vito Lopez. Eggler initially told the tabloid that Sophia is "a strange and reclusive character" living in London, but yesterday, "He pretty much admitted that he was sending the stuff out," according to a source. "In no way does the speaker condone this," said a Silver spokesperson, although it probably would have been more constructive to just go ahead and make Eggler the team's social media manager.