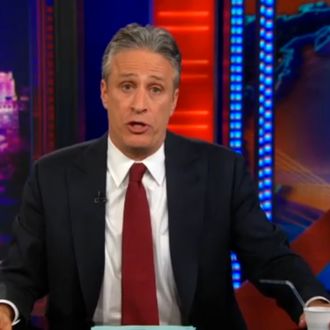 Bring it on, Bill-O.
Photo: Comedy Central
That's exactly how they're billing it: O'Reilly v. Stewart 2012: The Rumble in the Air-Conditioned Auditorium. The venue for the October 6 brouhaha that will stream online for $4.95 is George Washington University's Lisner Auditorium, where "O'Reilly and Stewart will take an entertaining and comedic approach to today's pressing political issues in an attempt to find the best direction for America," according to the event's official website. The Post's Cindy Adams reports that CNN's E.D. Hill will moderate. The mock presidential-style debate will proceed "without all the phoniness and pomposity," O'Reilly said.  Though Fox News' O'Reilly and Comedy Central's Stewart have diametrically opposed political views, they appear to like or at least respect one another. Half of net profits will go to charity, "if there are any," O'Reilly said. There will be. Ask Louis C.K.