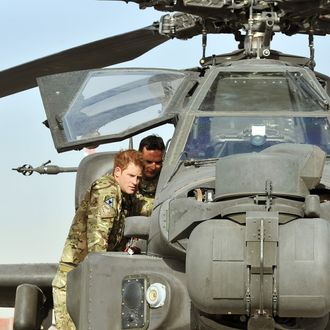 Prince Harry at Camp Bastion. (John Stillwell/Getty Images)
Photo: Pool/2012 Getty Images
Last week, Prince Harry — fresh off his clothes-optional weekend in Las Vegas — returned to Afghanistan for a four-month second tour of duty as an army captain and military helicopter pilot. Four years ago, when Prince Harry first arrived in the war zone, his location was a closely held secret, but this time around, the press reported his home base: Camp Bastion. Late last night, a suicide bomber blew himself up near the heavily fortified airfield's perimeter walls, letting in some 20 Taliban fighters, armed with rifles, rockets, and mortars. Two U.S. Marines died in the ensuing firefight, with at least five other Americans left injured, and a hangar and fuel reservoir blown up. As for Prince Harry, "he was not in any danger" a NATO official confirmed to BBC.
Two spokespeople for the Taliban — who earlier this week announced a "Harry Operation" to kidnap or kill the third in line to the throne — confirmed to BBC News and Sky News that Camp Bastion was targeted because they knew Prince Harry was there. However, another Taliban spokesperson told the AFP quite the opposite, that the attack "had nothing to do with the prince," but was sparked by the Innocence of Muslims film.
This breach of security — not to mention the two NATO soldiers also killed in Helmand Province by what appears to be a disgruntled Afghan police officer — may be enough provocation to send Prince Harry packing back to Britain. As of yet, though, there's no word on his future in Afghanistan.