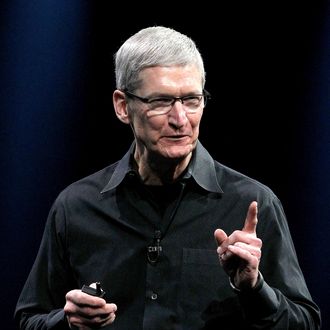 Cook not happy.
Photo: Justin Sullivan/Getty Images
Apple, like Mitt Romney, is not a big fan of the concept of the apology. Saying sorry is not in the company's DNA. It prefers to settle its affairs through patent trials and thermonuclear war.
But faced with a new iOS 6 Maps app that was so bad it was inspiring Tumblrs and featuring in competitors' ads, Apple CEO Tim Cook decided to lay down his pride. And so, today, we get this rare mea culpa:
To our customers,

At Apple, we strive to make world-class products that deliver the best experience possible to our customers. With the launch of our new Maps last week, we fell short on this commitment. We are extremely sorry for the frustration this has caused our customers and we are doing everything we can to make Maps better.
Cook goes on to recommend third-party map apps "like Bing, MapQuest and Waze" while Apple works out the kinks in its own app, and — in a move that is hard to imagine Steve Jobs making — said iPhone 5 users could "use Google or Nokia maps " in the meantime.
Jobs was famously intolerant of embarrassing mistakes. When the 2008 launch of MobileMe was marred by bugs and customer complaints, he went postal — firing the executives in charge after upbraiding the entire team.
If Cook is anything like his predecessor, today will not be a quiet day in Cupertino.