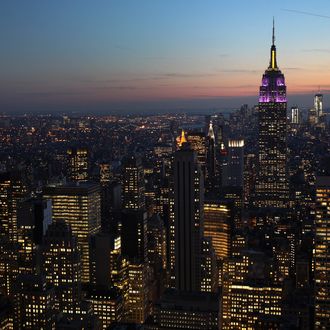 Photo: John Moore/2012 Getty Images
Together with a crew of historians, the Times put together a fascinating list of 50 objects "that could embody the narrative of New York." Aware that any list purporting to do just about anything will generate "well you missed …" feedback, the writers acknowledged that the objects present just one history, and invited suggestions. So where to begin? In lieu of the Statue of Liberty, the historians picked Emma Lazarus's sonnet "The New Colossus," which was memorialized on Lady Liberty's lower pedestal. But another very large structure was absent — the Empire State Building (or its antenna), the world's tallest building for 40 years, built during the Depression, signifying American ingenuity and efficiency?

There's only so much room for food on the list: The historians gave a nod to the early 1900s bagel, writing "no other food is so associated with New York as the 'Jewish English muffin.'" Maybe so, but the pizza slice embodies New York, too. Businessmen, tourists, and blue-collar workers alike can grab a quality slice of New York pizza for $2.50. And that price reflects the correlation between the cost of a slice and a subway ride, per the "Pizza Principle." The list also comically leaves off the New York Mets, while offering two references to other New York baseball teams: the first Yankee Stadium program in 1923, and the 1955 Brooklyn Dodgers' World Series banner. Even on a retrospective list, the Mets can't win.