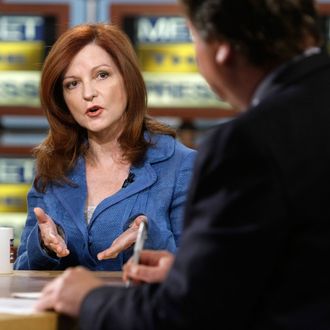 Dowd.
Photo: Alex Wong/Getty Images
New York Times columnist Maureen Dowd rings in the Jewish new year Sunday with a controversy brewing over her column titled "Neocons Slither Back," in which she peddles Jewish stereotypes and uses anti-Semitic imagery, according to a number of writers, editors, and observers. Dowd writes about Paul Ryan's and Mitt Romney's foreign policy visions, focusing on the man she says is engineering their views, top Romney adviser Dan Senor (the chief spokesperson for the Coalition Provisional Authority in Iraq during George W. Bush's administration):
>
Ryan was moving his mouth, but the voice was the neocon puppet master Dan Senor. The hawkish Romney adviser has been secunded to manage the running mate and graft a Manichaean worldview onto the foreign affairs neophyte.
"Maureen may not know this, but she is peddling an old stereotype, that gentile leaders are dolts unable to resist the machinations and manipulations of clever and snake-like Jews," writes Atlantic columnist Jeffrey Goldberg. Critics also note that Dowd assigns blame to another Jewish neoconservative, Paul Wolfowitz.
But there are plenty of voices who believe that Dowd's piece isn't a poorly calculated joke or thinly veiled anti-Semitism, including Mother Jones's Kevin Drum, who writes:
There's nothing anti-Semitic in Dowd's column. She just doesn't like neocons, and she doesn't like the fact that so many of the neocons responsible for the Iraq debacle are now advisors to Mitt Romney's campaign. Pretending that this makes her guilty of hate-mongering toward Jews is reprehensible.