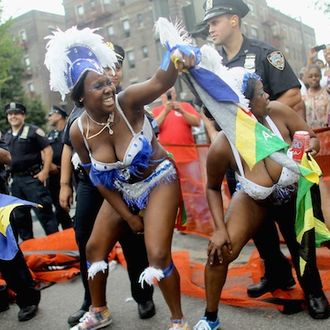 NYPD officers and reveler's at last year's parade.
An otherwise peaceful celebration at the West Indian Day Parade in Crown Heights, Brooklyn on Monday was marred by three violent confrontations that left two people dead from stabbings and two others injured with gunshot wounds to their hips. The Times reports that when crowds began to leave the Eastern Parkway route after the parade's official 6:00 p.m. end time, a 27-year-old man was stabbed and killed; in another incident a half-hour later, a fight broke out nearby on St. John's Place, leaving a 26-year-old man fatally stabbed. Both victims were stabbed in the neck, according to NBC New York, and both were pronounced dead at Kings County Hospital.
The shootings occurred earlier on Eastern Parkway. The Daily News reports that a 24-year-old woman and a 32-year-old man suffered gunshot wounds to their hips. Both victims are now in stable condition.
The parade is the city's largest, typically drawing upwards of one million people. It caps a weekend of events and has been plagued by violence in recent years. Last year, 67 people were shot over the course of the weekend, 13 fatally. Police Commissioner Ray Kelly told the Times prior to Monday evening's bloodshed that "there had been no reports of violence" and he hoped the parade would go smoothly.
An NYPD controversy erupted last year when racist postings emerged from a private Facebook group "No More West Indian Day Detail," some of them belonging to department officers. "I say have the parade one more year, and when they all gather drop a bomb and wipe them all out," wrote one commenter. Only a week ago, NYPD spokesman Paul Browne said that seventeen people were disciplined in connection with that matter, with four officers now up against departmental trials on charges for "conduct prejudicial to the good order of the Police Department."