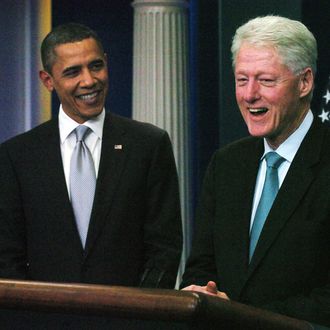 Okay, that's enough, Mr. President.
Photo: Pool/2010 Getty Images
Bill Clinton's prominent Wednesday night speaking slot at the Democratic National Convention gave the media an opportunity to spend the long weekend reexamining his rocky relationship with President Obama, which in the past has led some to wonder if Clinton is less than committed to Obama's reelection. The revelation that as of Monday afternoon, Clinton still hasn't finished writing his speech or submitted it for vetting by the campaign raised a new question: Could Clinton be the DNC's Clint Eastwood?
CBS News points to last week's empty chair fiasco as an illustration of "what could go wrong when a featured speaker strays from the campaign message," though it seems unlikely that the man considered to be one of the nation's most talented orators would structure his speech as a rambling verbal attack on an inanimate object. Organizers have reason to be concerned that Clinton might give a long-winded speech reminiscent of his 1988 keynote, or veer off message, like when he praised Mitt Romney's business career, but a senior campaign official was quickly dispatched to downplay the idea that they're anxious about what the former president might say. "He will get his speech done when he wants to get his speech done. We're not worried one bit," the staffer told CBS News, adding that "President Clinton and President Obama share the same vision of how to grow this economy." As for whether they'll get a peek at the speech before Wednesday, the official said, "Someone, somewhere will probably give it a read."
An article in the latest issue of the New Yorker describes how the relationship between Obama and Clinton has slowly improved over the years, and the Clinton camp has been trying to paint him as eager to do everything he can to help Obama's reelection bid. It was reported that in July Obama personally asked Clinton to make the speech formally placing his name in nomination, which is a first for a former president. "He is honored that Obama asked him to do it," Terry McAuliffe, former DNC chairman and close Clinton friend, told the Washington Post, adding that Clinton has been working on the project obsessively. "This speech is very important to him. He has taken the burden and put it on his shoulders," he said.
However, there's a tidbit toward the end of the New Yorker piece that will add fuel to conspiracy theories about Clinton plotting to sabotage the campaign. Ryan Lizza writes:
By some measures, a defeat for Obama in November would leave Hillary the undisputed leader of her party and propel her toward the Oval Office that much faster. At least one of Clinton's closest advisers seems to be backing that strategy. According to two people with direct knowledge, Douglas Band has said that he will vote for Romney. Band declined to comment.
Conveniently, Hillary Clinton won't be in North Carolina this week, as her duties as secretary of state have taken her to the South Pacific and Southeast Asia. But if the former president is concocting a convoluted strategy to boost the chances of a Clinton dynasty, his wife isn't the only person he has to worry about. There are rumors that Chelsea Clinton might introduce her father, which Buzzfeed notes would be her biggest political move since announcing she's open to the idea of running for office at some point in the indefinite future. No wonder Clinton still hasn't finished his speech. He still has to figure out how an Obama win in 2012 would affect his daughter's run against Sasha several decades from now.