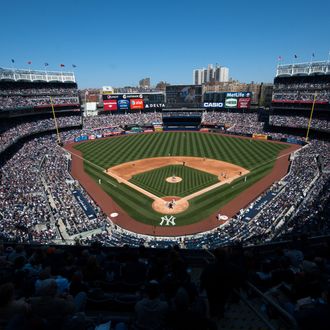 A general view of Yankee Stadium from the upper deck during a day game between the New York Yankees and the Detroit Tigersd at Yankee Stadium on Sunday, April 29, 2012 in the Bronx borough of New York.
Photo: Rob Tringali/MLB Photos via Getty Images
The clip was filmed between the second and fifth inning of yesterday's Yankees-Tampa Bay Rays matchup, when the pair attracted "a slew of onlookers" inside a bathroom. "At one point, there was a brief time where people were legitimately jockeying for position outside the stall to take pics either over or under, and even standing up on the toilet bowl on the neighboring stall," said one lucky(?) witness, who was kind enough to forward the footage to Deadspin. (You'll have to go over there to see it, perv.) Apparently, the couple "appeared oblivious" to their audience, which included stadium employees. "I found a little irony in it," the tipster added. "They weren't security personnel but they were equipped with walkie-talkies. Thought it was amusing that they should probably be using one of those walkie-talkies to call someone to do something about it … no one wants to blow the whistle on something as epic as this!!!" Eventually, however, security was called. In the spirit of epic-ness, the woman apparently received "the slow-clap treatment" as she exited.