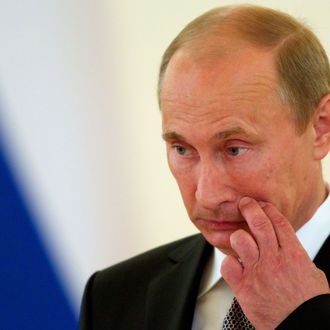 Russia's President Vladimir Putin takes part in a ceremony of receiving credentials in the Kremlin in Moscow, on September 26, 2012. Putin said today world powers should draw lessons from their mistakes and stop interfering in crisis-hit nations of North Africa and the Middle East.
Photo: Alexander Zemlianichenko/AFP/Getty Images
The FBI has charged eleven Russian immigrants — who may or may not be attractive — with "illegally exporting high-tech microelectronics from the United States to Russian military and intelligence agencies." We will continue to closely monitor this important story as it unfolds … if at least one of the Russians turns out to be hot.