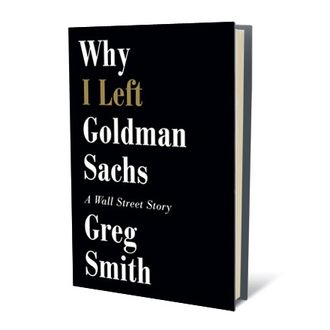 Don't judge by its cover.
Greg Smith's book, Why I Left Goldman Sachs: A Wall Street Story, expanded from his New York Times op-ed, is out today. Some think it's a giant con and a waste of time; others have found it "curiously short on facts"; still others think it's a "public service" cloaked as a goofy coming-of-age memoir.
In order to help you decide whether Mr. Smith's wisdom and wit are worth $18.22 (or $14.99 on Kindle), we compiled an exhaustive alphabetical guide to the book and its major characters/themes/strip club anecdotes. If you are inclined to read the rest, you can head over to Amazon, or just dig through the Dumpsters behind 200 West Street around 6 p.m. tonight for a lightly used copy.
Abacus 2007-AC1: A synthetic credit product that was at the center of one of the more dramatic episodes in Smith's book — the SEC's massive investigation of a 2007 incident in which a Goldman VP allegedly colluded with hedge-fund manager John Paulson to hand-pick mortgage securities based on which ones Paulson thought were likely to fail, then sold the product to clients without proper disclosure regarding that. Smith was flabbergasted; he writes that it marked the end of Goldman's "golden reputation." (See: Tourre, Fabrice.)
Axes: Defined by Smith as "a position the firm wants to get rid of," typically by unloading it on an unsuspecting client. Abacus 2007-AC1 was an axe, Smith writes, as were put and call options on the biggest European banks in 2011, when the European debt crisis was raging and making bank stocks highly unstable.
Blankfein, Lloyd: Goldman's CEO, whom Smith partially blames for the transformation of Goldman's client-centric culture into a ruthless trading operation.

Gym habits of: Smith reports seeing Blankfein "air-drying" in the nude in the Goldman gym.
Bonus: (See PATC.)
Buffett, Warren: The legendary Berkshire Hathaway investor was spotted by Smith as he walked the Goldman trading floor in 2008, after having invested $5 billion into Goldman to keep the firm healthy amid the worst of the financial crisis. "For a brief moment, all was right with the world," Smith raved.
Conti, Paul: Also known as "Mr. Cleanse," a Goldman manager who got his nickname because he underwent a juice cleanse at the office during the dark days of 2008. Conti could be brusque with underlings, Smith writes, once dressing down an upset female staffer by saying: "Becky, what did you major in at Villanova? Was it emotionalism? Cut it out." Kind of a dick! (Also, not his real name.)
Clorox: The nickname given to a type of esoteric financial product that Smith was uneasy about selling, since it was overly complex and fee-heavy, and provided no real benefits over similar cheaper products. He describes it as "like taking a baloney sandwich and offering it to a client as a Panino di Bologna."
Cohn, Gary: Goldman's president.
Personal protection efforts of: Smith recounts Cohn entering a Goldman holiday party at Chelsea Piers surrounded by bodyguards, after a year in which he made roughly $50 million. He wondered: "Who, exactly, were they protecting him from?"
Daffy, Michael: Smith's boss's boss, characterized by Smith as a "social genius" and a "rapidly rising star at Goldman Sachs." The moral hero of the book.
Donic Applegren: The maker of Smith's trusty ping-pong "blade," with which he mercilessly slays friends and foes alike. (See: Smith, Greg, ping-pong prowess of.)
"Elephant trades": Trades that netted Goldman more than $1 million in revenue and that, according to Smith, drove the firm's strategy and attitude toward clients.
Executive Director: Smith's final title at Goldman. The overseas equivalent of vice-president, which is a mid-level title shared by upwards of 12,000 Goldman employees. Is not as impressive as it sounds.
Georgette: One of Smith's managing directors, who routinely blew him off ("I don't typically talk to my employees more than once a month") and practiced a questionable routine known as the "15% tax," in which she would forcibly skim off 15 percent of her traders' revenues for her own account, thereby increasing her bonus and decreasing theirs. Sounds like a real winner.
Glocker, Rudy: Smith's first boss at Goldman. Unlike Georgette, actually seems to like Smith. Detests lateness, takes pride in Smith's accomplishments, gives him a copy of Chris Mathews's Hardball to prepare him for a cutthroat political climate at Goldman.
Goldman Sachs: Wall Street's most powerful investment bank. Former employer of Greg Smith.

Cafeteria woes of: Smith spills on the difficulties Goldman encountered when, after building a massive cafeteria in its brand-new 200 West Street headquarters, it experienced bad traffic backups and slow service. "There was some flaw in the design or layout that no one could ever quite figure out … It was all very strange."
Dress code at U.S. offices of: Smith writes that the key to dressing well at 200 West Street was to "make sure it was understated, in neutral colors, and not too flashy, but also make sure people could tell it was expensive."
Dress code at London offices of: "Patterns were big. People wore checked, striped, and windowpane suits. Colors were big … Basically, anything went, as long as it was stylish."
Party hierarchy as understood by: Smith writes: "Goldman Sachs farewell parties, I'd found, tended to be a bit hit or miss, depending on the popularity of the person who was moving on. And at Goldman, popularity was always commensurate with value to the firm. When people who were not well regarded professionally or personally (but mainly professionally) were leaving for the Tokyo office or other employment, few people, and especially few from upper management, showed up."
Compensation-induced brain warp at: At one point, Smith receives a six-figure bonus, then opines: "By the logic of the outside world, I was being absurdly well compensated … By any measure, I should have felt exceptionally lucky and grateful. But by the warped logic of Goldman Sachs and Wall Street, I was being screwed."
Cultural decline of: Smith writes, in what is the closest thing his book has to a one-sentence thesis: "As the power base at Goldman shifted from investment banking to trading … the client increasingly came to be regarded as a counterparty, merely the other side of a transaction, rather than an advisee."
Guerrilla PR battle fought by: Since Smith's book deal was announced, Goldman's press office has gone on the warpath, leaking details from Smith's performance reviews and seeking to portray him as a disgruntled liar. Redefining "protests too much."

Tolerance of vaguely homicidal freestyle rap lyrics at: At an intern outing at Bear Mountain State Park, one of Smith's early Goldman classmates came up with what Smith describes as an "Eminem-style rap" about Valentino Carlotti, a high-ranking Goldman executive who was in attendance that day, that included the lyrics, "Dotty, dotty, I want to shoot Val Carlotti with my shotty." The intern did not get an offer. Also, that is the worst lyric in hip-hop history.
Grand Central Publishing: Smith's publisher. Gave Smith a reported $1.5 million advance for Why I Left. Probably going to make that back on sales to Goldman employees alone.
Gross Credits: Known within Goldman as "GCs," gross credits are a unit of per-employee revenue measurement that is at the heart of Smith's critique of the firm. Once thought to be an ancillary measure of how much money a Goldman trader brought in, Smith writes that they became the primary measure used to calculate bonuses and evaluate employees for promotions. Thus, they — and the megatrades that brought them in — became all anyone cared about.
GTB: "Get the Business," a preferred saying of a Goldman partner named Matt Ricci (a pseudonym), who was also fond of giving pep talks to the firm's traders about making money on big transactions. (See: "Elephant trades.")
Las Vegas: A city in Nevada with casinos and girls named Crystal. Site of one of the book's most notable scenes, a bachelor party for one of Smith's Goldman colleagues, at which he ended up in a hot tub with several Goldman higher-ups and a topless woman.
London: A city in England with expensive cabs. Also, a place Smith went to work for Goldman late in his twelve-year career, and the site of his eventual disillusionment about the firm's morality and culture.
MacGregor, Gregor: (See: Smith, Greg, Nicknames given to.)
Nelly: One of the artists on Greg Smith's iPod. (See: Smith, Greg, Advanced D.J. skills displayed by.)

Partner Laugh: A loud, bellicose laugh, typically made in the presence of a Goldman Sachs partner by "some kiss-ass VP," according to Smith. A relative of the "Custy Laugh," short for customer, which Smith writes was "just as fake but was reserved for sucking up to your biggest clients and usually was louder and built up at a more gradual pace."
PATC: Short for "per annum total compensation," and also known as how much money you make at Goldman. Smith was given close to $500,000 in 2006 and more in subsequent years, but still felt disappointed. (See: Goldman Sachs, compensation-induced brain warping at.)
Paulson, Henry M.: Former Goldman CEO turned treasury secretary. Smith saw him "put up some pretty impressive weight on the incline chest-press machine" at the Goldman gym.
Pragmatism: One of Smith's strongest notes is struck midway through the book, when he writes of an encounter with a Goldman client in Asia, just hours after the SEC's charges against Goldman had come down.
[The client] did not mince words. He looked at the partner and then at me and said, "Let me be clear with you guys. You don't need to worry. We're not going to stop doing business with you. The truth is, we haven't trusted you guys for a long time, because we think Goldman Sachs is a hedge fund; we know you have exclusively your own interests at heart. Yet we also recognize that you're the smartest guys on the Street, and there are times when we need to trade with you."
Sinatra, Frank: Smith's music of choice while studying for the Series 7.
Siewert, Jake: Goldman Sachs's head of PR, whose first week on the job coincided with Smith's op-ed. Has been obsessed with taking Smith down ever since.
Smith, Greg: The author of Why I Left Goldman Sachs. Either a modern-day Upton Sinclair or a disgruntled dweeb, depending on whom you believe. 

Advanced D.J. skills displayed by: At a farewell party for a Goldman boss, Greg is called on to D.J. from his iPod. He plays Nelly's "Ride Wit' Me," Jay-Z and Linkin Park's "Numb/Encore," U2's "Beautiful Day," and many other (better?) songs.
Bro Code violations of: (See: Blankfein, Lloyd, Gym habits of.)
Cultural references made by: Page 155: "Company culture and morale seemed to be bygone values. To paraphrase that great sage Puff Daddy, it was all about the Benjamins."
Gradual loss of innocence with respect to beloved childhood TV puppets of: "Muppet was a word that, for me, had once evoked childhood memories of cute puppets such as Kermit the Frog. But the way it was used in the London office had nothing to do with cuteness. Being a muppet meant being an idiot, a fool, manipulated by someone else."
Gustatory habits of: Smith is partial to kosher sammies (see: this) and prefers the 2nd Ave. Deli's corned beef variety. His favorite food is sushi — a dish he was introduced to by his Goldman boss Rudy Glocker — and, when on Goldman's dime, he frequented SushiSamba in the West Village.
Languages supposedly spoken by: English, Afrikaans, Hebrew, and Zulu.
Nicknames given to: Smith's first nickname at Goldman was "Springbok," the gazellelike creature that is the symbol for South Africa's rugby team. It was later changed to "Gregor MacGregor."
Possible fabrications by: James B. Stewart did some fact-checking of Smith's book in the New York Times and reported that not all of his details checked out.
Possible ulterior motives of: Among the revelations leaked by Goldman Sachs in the lead-up to Smith's publication date are the fact that, before his Times op-ed made him famous, Smith had been denied a $1 million bonus, that he was being eyed for dismissal, and that he was frustrated over not having been made a managing director. (See: Goldman Sachs, Guerrilla PR battle fought by.)

Rhetorical flourishes of: Smith's book is packed with film-noirish asides ("Therein lies a tale," "So, how did I find myself in this Vegas hot tub?") that make us think (hope) that he dictated the entire book to an amanuensis while pacing his apartment in a smoking jacket with a snifter of brandy in hand.
Strip club guile of: Early in his Goldman career, Young Greggers goes to Scores with his Goldman intern class, and after getting "what seemed like about five minutes of dances from a few blond bombshells," is billed $750. He doesn't have the money and so is escorted "out the back door" by the Scores bouncer.
Table-tennis prowess of: In addition to winning a bronze medal at the 1993 Maccabiah Games, Smith placed second (on purpose) in the annual Goldman Sachs Ping-Pong Tournament. According to Fortune, who investigated the matter independently, he's "pretty good."

Tourre, Fabrice: A.k.a. "Fabulous Fab," the punk Goldman VP who was involved in the Abacus transactions. Smith writes that Tourre was "a classic quant" who was "slightly goofy" and "socially awkward," and who "clearly had not been hired on the strength of his charisma."
Viniar, David: Goldman's (now-retired) chief financial officer. Smith kiiiiiiind of seems to have a man-crush on Viniar, whom he describes as "a gladiator" and "an extraordinarily impressive guy."
Whistleblower, Questionable Status of Greg Smith As: The debate about Greg Smith, among finance media watchers, seems to be whether Smith counts as a whistleblower, given that most of what he reveals about Goldman is either already known (i.e., Abacus) or not particularly scandalous (i.e., Vegas hot tubs). We say yes, given that Smith, while a flawed vessel with an imperfect book, is nevertheless making an exceedingly rare public declaration from the perspective of a Goldman insider about how the firm's vaunted "clients-first" culture actually plays out on the trading floor. (A declaration, by the way, that some Goldman partners actually agree with!) But your opinion may vary.

Zulu: Language we do not believe Smith actually speaks.