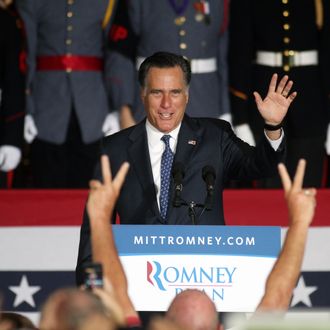 Photo: Jessica Kourkounis/2012 Getty Images
According to speech excerpts released late on Sunday night, on Monday Mitt Romney plans to attack President Obama's handling of the attack on the Libyan consulate, telling the audience at the Virginia Military Institute that while his administration tried to blame "a reprehensible video insulting Islam," it's "finally conceded" that the attacks "were the deliberate work of terrorists who use violence to impose their dark ideology on others … and who seek to wage perpetual war on the West."
Obama advisers issued a prebuttal several hours earlier, but it might not have been necessary, as Romney's own advisers are undermining his foreign policy expertise. The New York Times reports that in interviews several Romney advisers say "they have engaged with him so little on issues of national security that they are uncertain what camp he would fall into, and are uncertain themselves about how he would govern."
The overall message of Romney's speech appears to be that Obama has been consistently weak on foreign policy, and while Romney shares the president's hope for a more peaceful and prosperous Middle East, "hope is not a strategy." Yet, Romney's speech is still light on details, and those around him wonder if he's even reading the various policy papers produced by the warring factions on his foreign policy team. From the Times:
"Would he take the lead in bombing Iran if the mullahs were getting too close to a bomb, or just back up the Israelis?" one of his senior advisers asked last week. "Would he push for peace with the Palestinians, or just live with the status quo? He's left himself a lot of wiggle room."
In yet another leak about a week ago, a top Romney adviser told Politico that the campaign shouldn't veer from its economic message to attack Obama on foreign policy because, "As messy as the world looks, it's not voters' primary concern." Indeed, most Americans probably wouldn't notice that Romney has either been frustratingly vague or shifted his stance on issues such as whether to arm Syrian rebels and where to draw the line on Iran's nuclear capability. Talking tough even if he doesn't have the specifics worked out could be an effective strategy, as long as Romney advisers can restrain themselves from venting to reporters for the next month.