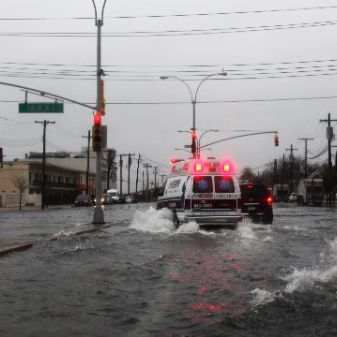 As the worst of Sandy's storm surge subsides, New York will now begin a long, difficult process of surveying and repairing the damage.
The storm has already caused at least 13 deaths, according to CNN, and left nearly 7.1 million East Coast residents without electricity, according to NBC News.
In New York, at least one major hospital, NYU's Langone Medical Center, was forced to evacuate patients when its power went out and backup generators failed. Many, many Manhattan residents are still powerless. And the city's transportation infrastructure is expected to take days to become fully functional again. (MTA chairman Joe Lhota said, "The New York City subway system is 108 years old, but it has never faced a disaster as devastating as what we experienced last night.")
Here are some of the most notable events and images from the night. (Check our first live blog for more.)
3:49 a.m.: You've doubtless seen some fake Sandy photographs making their way around social media sites today. Alexis Madrigal has put together a helpful primer on which Sandy viral photos are real, and which are the product of mislabeling or Photoshop magic.
3:38 a.m.: More hospital news: NYU's Langone Medical Center has been successfully evacuated, thanks to the efforts of doctors, nurses and other hospital staffers who wheeled more than 200 patients out to waiting ambulances after the hospital's emergency power generators failed. Those patients have been taken to other area hospitals. Meanwhile, the Bellevue Hospital Center in Kips Bay "has had flooding in its basement and is currently using emergency backup power," according to CNN.
3:10 a.m.: David Letterman was among those who braved the storm to go to work, recording his CBS late-night show in an empty studio with no audience at all. Here's his opening monologue, complete with eerie silences where laughter should be:
2:53 a.m.: Roughly 170 firefighters are on the scene at a four-alarm blaze in the Breezy Point neighborhood of the Rockaway peninsula. The fire involves about 15 houses that were in the flood evacuation zone A, but the immediate cause is not yet known, according to the AP.
2:25 a.m.: Charles Watson, a disaster researcher at Kinetic Analysis Corp., estimates that Hurricane Sandy could cause as much as $20 billion in total economic losses, with the bulk of the losses being borne by the public sector. A Wells Fargo economist estimated that Sandy "ultimately may subtract 0.1 to 0.2 percentage points from U.S. gross domestic product in the fourth quarter," according to Bloomberg.
1:45 a.m.: If you're feeling helpless, here, via the Huffington Post, is a list of ways you can assist with post-Sandy damage relief efforts, including giving to the Red Cross and donating blood to the New York Blood Center.
1:15 a.m.: Con Ed is saying that it could take up to a week to repair the electrical plant on 14th Street where a transformer exploded earlier in the night. That could mean more powerless days for tens of thousands of Lower Manhattanites.
1:00 a.m.: The Oyster Creek nuclear power plant in New Jersey has declared an "alert," according to Reuters, meaning that if waters continue to rise, it could be forced to switch to an emergency cooling system.
12:30 a.m.: Heavy flooding is still being reported in many parts of the city. Here is a photo, via Instagram user @stefluvaynl, of the Kings Plaza parking garage in Brooklyn:

11:25 p.m.: Con Edison is shooting down an earlier, erroneous Reuters report that 19 of its workers were stuck inside a Manhattan power station by rising waters. The utility company says that none of its workers were trapped.
11:00 p.m.: Most of Lower Manhattan is still without power. Wall Street banks in the area seem to be the exception. Here, via Instagram user @charliewalk, is a photo of Goldman Sachs's 200 West Street headquaters, with a floating car outside:

10:05 p.m.: Mayor Bloomberg just gave an update on the Sandy situation. He asked New Yorkers not to call 9-1-1 unless they're in a truly life-threatening emergency and told them to stay off the roads. As for the weather, Mayor Bloomberg said the rain has mostly passed, and winds will get below "gale force" in the next few hours, and a "very big part" of the storm surge will be over "in the nect couple of hours."
9:55 p.m.:  You may have heard rumors on Twitter (or, uh, CNN) that the New York Stock Exchange is under three feet of water. But an NYSE official tells Politico's Ben White that it's not true.
9:45 p.m.: Jane's Carousel in Brooklyn Bridge Park, which usually looks like this, now looks like this:
9:40 p.m.: An incredible video of a transformer exploding on the Lower East Side:
9:30 p.m.: Here's a video of the facade of a building in Chelsea falling off:
8:54 p.m.: Every single MTA road and bridge is now closed.
9:12 p.m.: One World Trade Center, perhaps the last light in all of lower Manhattan, is now out, according to witnesses on Twitter.
9:02 p.m.: We don't even know how this is possible right now, but there are reportedly fires burning in some subways, according to Twitter. This is unconfirmed.
8:29 p.m.: The Governor's office has confirmed that five people have now died in New York as a result of Sandy. Be careful people.
8:15 p.m.: The Statue of Liberty's torch went out, which means America has to start all over now.
8:04 p.m.: A man in Flushing, Queens, is the tri-state area's first Sandy-related death after being found under a tree in his home.
8:02 p.m.: Cars are floating down Avenue C. Firemen are searching for people trapped at Avenue C and 14th Street.
7:20 p.m.: The Weather Channel reports that the water level at the Battery has reached 11.25 feet, surpassing the all-time record of 11.2 feet set in 1821.  Earlier in the evening, Weather Underground's Jeff Masters noted: "The rise in surge has slowed down, but the surge may not be slowing down fast enough to avoid record flooding in New York City."
7:19 p.m.: ConEd has cut power south of Wall St, east of Broadway, and down to State St., according to State Senator Daniel Squadron.
7:15 p.m.: The National Hurricane Center has downgraded Sandy to a "post-tropical" storm with winds of up to 85 miles per hour. Our colleagues at the Weather Channel, with the eyes of the nation upon them, have quickly responded by dubbing it "Superstorm Sandy."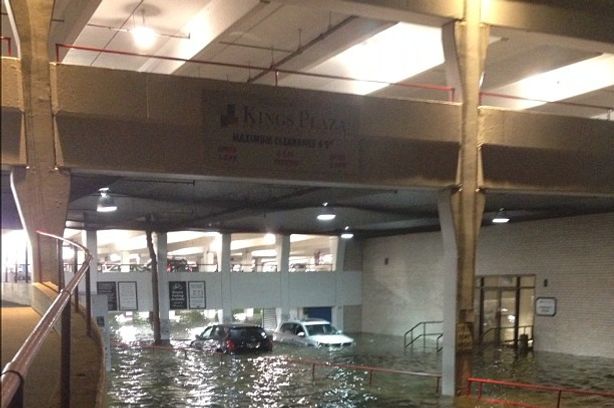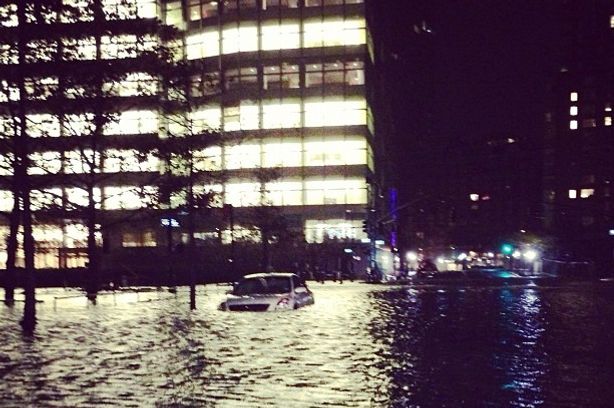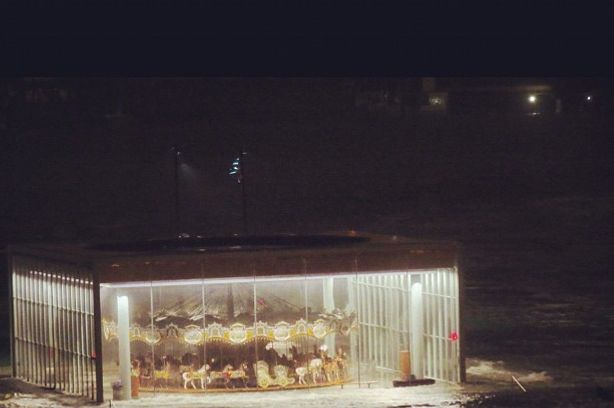 After the Storm: Surveying the Damage
Things you buy through our links may earn New York a commission.