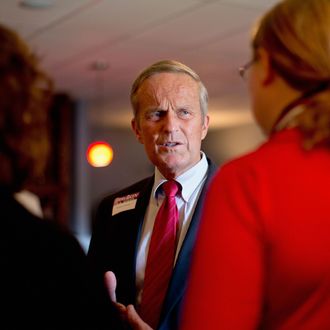 U.S. Rep. Todd Akin (R-MO) speaks to supporters during a fundraiser, which was also attended by Former Speaker of the House Newt Gingrich, on September 24, 2012 in Kirkwood, Missouri.
Photo: Whitney Curtis/Getty Images
Two days after Todd Akin compared Missouri senator Claire McCaskill to a dog ("She goes to Washington, D.C., and it's a little bit like, uh, you know, one of those dog, you know, 'fetch'"), his spokesman decided to further pursue the enchanting analogy on Twitter. "If Claire McCaskill were a dog, she'd be a 'Bullshitsu'," Rick Tyler joked this afternoon. This is a campaign that really "gets" women and what they like to hear.