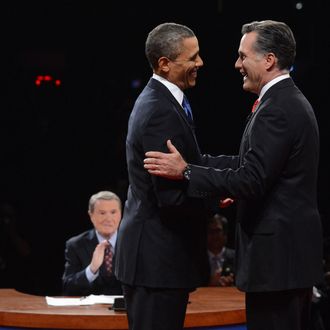 Photo: Pool/2012 Getty Images
Post-debate hysteria aside, President Obama still leads in most national polls. However, Mitt Romney is making slow but steady gains nationally and in many key battleground states. In Florida and Virginia, where Romney had been trailing Obama by single digits, Rasmussen now has him up by two points and one point, respectively. We Ask America gives Romney a (perhaps dubious) seven-point jump in those states and Ohio, though Rasmussen still gives Obama a slight edge in the Buckeye State. The most significant boost to Romney, however, may be his sizable swing from net negatives to net positives: For the first time in the 2012 race, 51 percent of Americans now view Romney favorably, according to a Reuters/Ipsos poll conducted since the debate.
Meanwhile, over at FiveThirtyEight, Nate Silver sees Romney's chances of winning the necessary 270 Electoral College votes rise to 15.1 percent. (While not exactly a ringing endorsement, that's up 17 percent from Silver's Thursday projections.) But these early gains may be slightly exaggerated, the Times polling guru warns, because of a likely bias toward high-information voters in these early post-debate surveys.
So it's hard to distinguish a genuine shift toward Mr. Romney, from a real but potentially temporary shift based on changes in voter enthusiasm, from an artificial change caused by a bias toward heavy news consumers.
As for the slight Obama gains reported by Gallup and Rand in their daily polls: Perhaps yesterday's cheery jobs report gave the president a debate-offsetting boost — although we won't get the full post-debate picture until next week, since these and other polls use week-long averages.