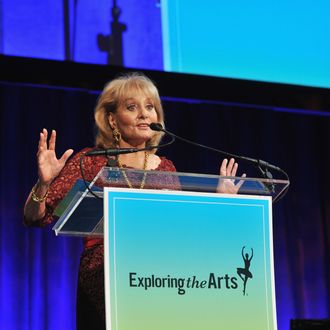 Walters at the gala.
Photo: Larry Busacca/Getty Images
Jim Lehrer's performance as a moderator at Wednesday night's debate has been widely panned — even, to a degree, by Lehrer's TV news colleagues. But Barbara Walters — who moderated a presidential debate in 1976 and again in 1984 — can sympathize. "It's a very tough job," she told us at last night at Tony Bennett's Exploring the Arts Gala, "because you're not just a time-keeper, but you also have to get them to stick to the subject and it's very hard to interrupt. When President Obama was on our program last week with his wife, there were times when I wanted to say, 'That's enough! Okay! We're moving on!'"
"It's very hard and Jim did his best," she continued. "Jim is a gentleman. Jim is not going to be rude to them. But he had a very tough job, and he had the facts, and he did it well." It appears that "being a gentleman" is the go-to defense for debate-performance issues this year.