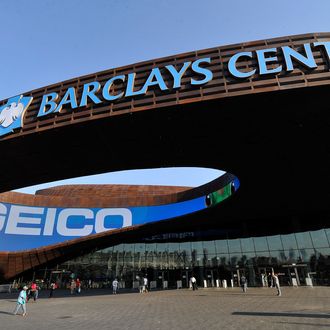 Photo: Stephen Lovekin/2012 Getty Images
Two weeks ago, people arriving at the Barclays Center for Jay-Z's opening night shows were sent through airport-style metal detectors, as were those who showed up for the Harlem Globetrotter game last Sunday. Meanwhile, attendees of Barbra Streisand's Thursday Brooklyn homecoming concert were merely "wanded," notes the New York Post. Having taken into account the demographic differences between your average Jay-Z and/or Harlem Globetrotters fan and your average Babs devotee, some visitors accused the stadium of racial profiling. 
When reached by the Post, a Barclays Center spokesman insisted that the different security standards were "absolutely not" racial profiling, but an attempt to minimize the long lines that plagued earlier events. Still, it doesn't look very good. As Brooklyn Councilwoman Letitia James put it, "There shouldn't be a double standard. […] It shouldn't matter if you come by limousine, subway or your own two feet." Even if those feet are clad in sensible flats as opposed to sneakers.