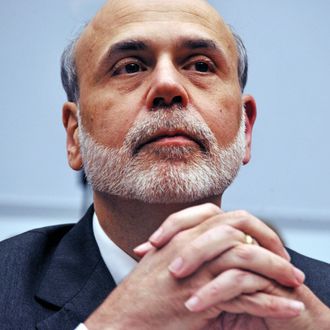 The first step is accep-NOOOO DON'T GO
Photo: KAREN BLEIER/2011 AFP
Ben Bernanke, disappointed Nats fan and Federal Reserve chairman, has reportedly told friends he is planning to step down from his post at the end of his next term even if President Obama wins reelection.
This bit of news was tucked away in Andrew Ross Sorkin's New York Times column today about handicapping the next picks for Treasury secretary and Fed chairman:
>
Ben Bernanke, the Federal Reserve chairman, is likely to need a successor, too. If Mitt Romney wins the presidency, he has already pledged he will replace Mr. Bernanke, whose term as chairman ends in January 2014, in just over 15 months. However, Mr. Bernanke has told close friends that even if Mr. Obama wins, he probably will not stand for re-election.
Sorkin! You can't just drop that in the middle of your column and move along like nothing happened. Bernanke is our rock, our deliverance, our national happy place. That lily-white beard is our security blanket. QE3 is our economy's Xanax. Hell, his middle name is literally "peace." We're going to need some time to process this.
Bernanke's imminent departure is still a matter of debate, even inside the New York Times building. Times Fed correspondent Binyamin Appelbaum rained on Sorkin's rumor on Twitter, writing: "Washington rule: The only denials that matter are categorical denials. #Bernanke."
Still, we have to start mentally preparing for the possibility that Uncle Ben will leave us for a prettier, younger central bank or maybe just Princeton's economics department. Sorkin says that Larry Summers and Fed governor Janet Yellen are on top of his list of possible Bernanke replacements.