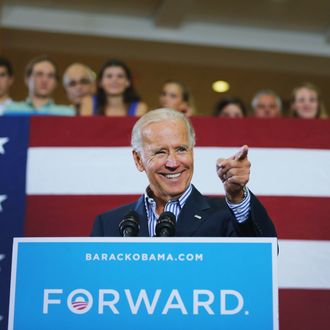 Photo: Joe Raedle/2012 Getty Images
The vice-president was even considerate enough to leave Mitt Romney plenty of time to memorize a few more debate zingers. At a campaign stop in Charlotte, North Carolina on Tuesday, Joe Biden told a crowd of about 1,000 that if elected, Romney would raise taxes on the middle class, adding, "This is deadly earnest. How they can justify, how they can justify raising taxes on the middle class that has been buried the last four years? How in the Lord's name can they justify raising their taxes? We've seen this movie before …" Acknowledging that times have been tough for middle class families may seem fairly benign, but by referring specifically to the time he and President Obama have been in office, Biden set off a round of sniping over the cause of middle class Americans' continued strife.
CBS News reports that the Romney campaign quickly jumped on the comment, with Romney saying they've been "buried" by policies Obama put in place. While campaigning in Iowa, Paul Ryan added:
Of course the middle class has been buried. They are being buried by regulations, they are being buried by taxes … They are being buried by borrowing, they are being buried by the Obama administration's economic failures. You see the Obama economic agenda failed not because it was stopped, it failed because it was passed … Help is on the way. We can turn this around.
By now the Obama campaign has already worked out its procedure for dealing with Bidenisms, and the first step is to explain what the vice-president was attempting to express: "As the vice president has been saying all year, and again in his remarks today, the middle class was punished by the failed Bush policies that crashed our economy — and a vote for Mitt Romney and Paul Ryan is a return to those failed policies." (Emphasis added.) Later at another campaign stop in Asheville, Biden himself elaborated on what "decimated" the middle class. "We lost 9 million jobs because of that Great Recession," he said. "The middle class was buried by the policies that Romney and then Ryan supported."
To be fair, Biden is making progress. At least there's no controversial racial element to his latest unintentional catchphrase.