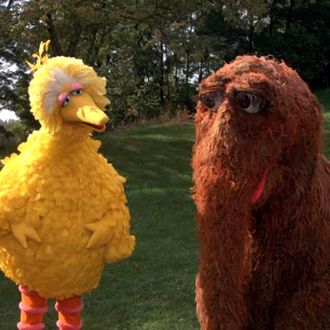 Don't forget Mr. Snuffleupagus!
Photo: Jim Henson Productions
Thirty minutes after Mitt Romney declared war on Big Bird and PBS in the first Presidential debate, an LA animation executive and a political science student in Idaho were on the phone, plotting a counter-attack: The Million Muppet March is exactly what it sounds like, and it will take place November 3rd at the National Mall in Washington. (Obviously, the Sesame Street creatures are not technically Muppets, but we're sure they have a lot of common goals.) The group's Facebook page doesn't quite have a million fans yet, but it does have 13,500 likes and a YouTube tutorial on how to make your own sock puppet. Now, there are two (hopefully) meme-generating debates in between now and the first week of November, so it's possible that enthusiasm for the idea might fade in the meantime. On the other hand, people really love puppets.