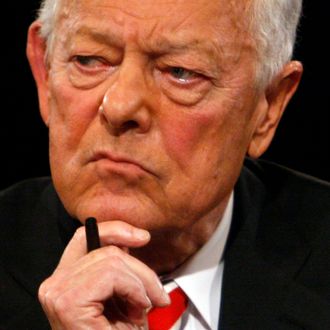 Photo: Pool/2008 Getty Images
Attacking the debate moderator has become a popular bipartisan American pastime, and Bob Schieffer, the moderator of the final debate on foreign policy, offers something for everyone. The Face the Nation anchor is so concerned with appearing objective that he recused himself from CBS's coverage of the first three debates. Yet, he's already been accused of leaning to the left in his coverage and having an oddly close relationship with the Romney campaign. There's no need to save your complaints for when Schieffer insta-fact-checks or interrupts one of the candidates on Monday night. Let's get started now!
Evidence of Conservative Bias
Schieffer and George W. Bush were golfing buddies in the nineties and attended baseball games together. Plus, the moderator's younger brother, Tom Schieffer, had a business relationship with Bush and was later named ambassador to Australia during his administration. Scheiffer also said after Bush's "Mission Accomplished" stunt: "As far as I'm concerned, that was one of the great pictures of all

 

time."
Schieffer came to Romney's defense again when Harry Reid accused him of not paying taxes for a decade, comparing Reid to Joeseph McCarthy. "Isn't this kind of like Joe McCarthy back in the era when he said, 'I have in my hand the names of 400 people in the State Department who are communists'?" said Schieffer on Face the Nation. "It turns out he didn't, and he was saying that the way to prove that they're not is for them to come forward there. I mean, asking somebody to come forward just because there's been an unsubstantiated charge, that's a little thin to

 

me."
When Romney finally agreed to appear on a Sunday talk show that wasn't Fox News Sunday, his first stop was Face the Nation. Then for his first joint interview with Paul Ryan, he gave Schieffer the exclusive again. Fox News anchors have asked more hard-hitting questions than Schieffer did on 60 Minutes, and he even warned Ryan, saying "I'm going to put you on the spot," before asking the fairly mild question, "Did you think [Romney's] been too defensive about Bain

 

Capital?
In May Schieffer criticized the Obama administration for hammering Romney on his career in private equity. In an interview with Don Imus, Schieffer said, "What's going on here, frankly, is you know, Mitt Romney, is not the robber baron that the Obama folks would have you believe …

 

"
Evidence of Liberal Bias
The second half of that Imus interview: " … any more than Obama is a European socialist as the Romney folks would have you

 

believe."
In 1989 Schieffer wrote the book The Acting President: Ronald Reagan and the Supporting Players Who Helped Him Create the Illusion That Held America Spellbound, which portrayed Reagan as bumbling and disengaged.

 

Sacrilege!
Schieffer is a 43-year veteran of

CBS

News, long accused by conservatives of harboring a liberal bias that dates back to Walter Cronkite. His successor, Dan Rather, resigned in 2005 as anchor of the

CBS

Evening News after airing a report the criticized President Bush's service in the National Guard based on documents that were later revealed to be forgeries. Schieffer took over as anchor after Rather's

 

departure.
When Schieffer moderated the 2004 presidential debate, conservatives complained that he directed several easy questions to Kerry. Schieffer also used the liberal term "a woman's right to choose" when posing questions about

 

abortion.
Schieffer and

CBS

News producers were accused of selectively editing Romney and Ryan's 60 Minutes interview to exclude Ryan's comment that he wants to preserve Medicare for current seniors because, "My mom is a Medicare senior in Florida," and "we need to preserve their

 

benefits."
Conservatives say that Schieffer regularly peppers his interviews with tougher questions for Republican candidates and statements that don't accurately represent the position of the

GOP

. For example, when discussing the battle over requiring Catholic institutions to cover contraception for employees in February, Schieffer said, "And yet, the Republicans keep pushing. They say that's not enough. That you've got to be totally against the birth control the way some of … " Chris Christie answered, "I don't think, you know, most Republicans have said that." Schieffer made a similar statement in April, asking Newt Gingrich, "Do you think it's — it's good politics so for Republicans to be sort of campaigning against birth control, I mean, I take your points on the Catholic side of it." Gingrich replied, "Nobody is campaigning. This is — this is a canard. Nobody is campaigning against birth

 

control."