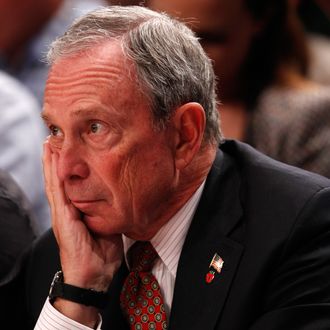 New York City Mayor Michael Bloomberg looks on as the New York Knicks play against the Miami Heat in Game Three of the Eastern Conference Quarterfinals in the 2012 NBA Playoffs on May 3, 2012 at Madison Square Garden in New York City.
Photo: Jeff Zelevansky/Getty Images
No, we know, that's not a lot of money for Bloomberg, a guy worth $25 billion. (In fact, it's the equivalent of someone with a net worth of $100,000 donating $1.) But it's still nice of him. Don't be like that.