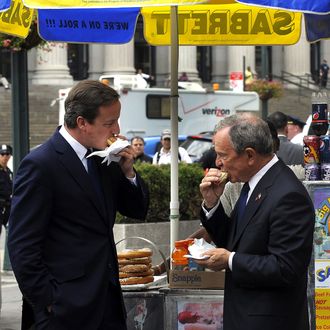 Hopefully you do a little better than British Prime Minister David Cameron.
Photo: Timothy A. Clary/AFP/Getty Images
There are probably a lot of things that you would like to ask New York's mayor of nearly eleven years and counting, Michael Bloomberg: Do you have a giant vault of gold coins like Scrooge McDuck? Does it hurt when you dive into it? Has anyone ever drowned? (Also, possibly some questions unrelated to the giant vault of gold coins.) Well, now you can ask him all that and more — assuming that you win this Charity Buzz auction for a private lunch with Bloomberg (and three of your friends), the proceeds of which go to the Humane Society. Why doesn't Bloomberg just write the Humane Society a check? We don't know! Maybe he's bored.
Of course, bidding started at 9 a.m. this morning and is already up to $3,250, so, don't get your hopes up.