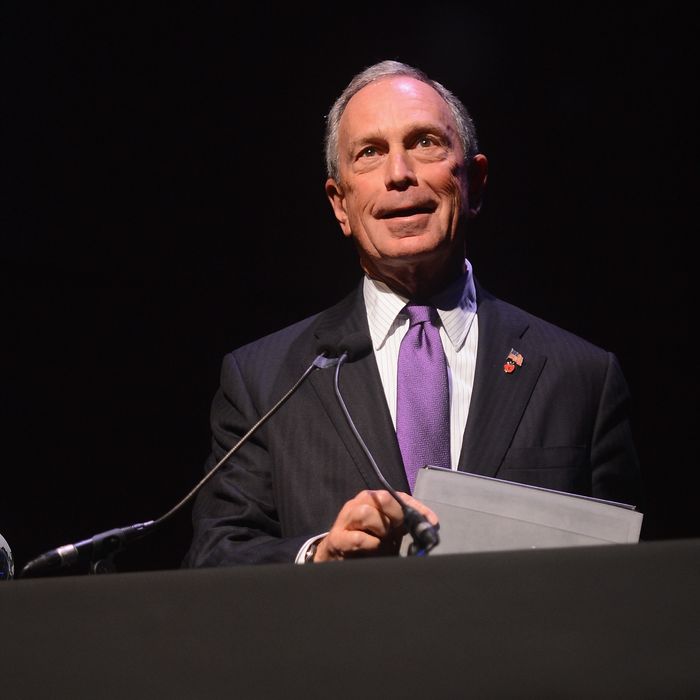 Photo: Jamie McCarthy/Getty Images
Today Mayor Bloomberg aptly dismissed as "gibberish" the presidential candidates' attempts to explain why American civilians have access to AK-47s. Now Bloomberg is backing up his words with his wallet. The mayor will be spending roughly $10 to $15 million to back between six and twelve candidates in U.S. senatorial, congressional, and local races — with gun-law reform Bloomberg's main priority.
Bloomberg just announced he is creating a centralized war room for the next three weeks, with Democratic campaign veteran Howard Wolfson spearheading the effort. Wolfson, currently a deputy mayor, will go on leave from the city payroll to oversee polling, advertising, and direct mail intended to influence elections across the country.
Bloomberg has been plenty generous with campaign cash in the past, using it to support everything from State Senate Republicans to the defense of Maryland's same-sex-marriage law. Already in this election cycle, he has held fund-raisers for Republican Senator Scott Brown of Massachusetts; Senator Claire McCaskill of Missouri; Christine Vilsack, the former first lady of Iowa who is running against Republican congressman Steve King; and pro-choice Republican Representative Robert Dold of Illinois. He has also made personal $2,500 donations to candidates, including former surgeon general Richard Carmona in Arizona and Senator Bill Nelson of Florida.
The recipients of the new IndependenceUSA PAC will be a mix of incumbents and challengers,  Republicans, Democrats, and independents. To increase the tactical edge — and to avoid turning his favorites into targets for opponents — Bloomberg won't identify the candidates he's planning to bolster, though the beneficiaries should become obvious as the money starts to flow. Some will get help because they're in agreement with the mayor's views on public education, gay marriage, or bipartisanship. The biggest issue, though, will be tightening access to illegal guns.
Fighting gun violence has been a Bloomberg passion for years, but the July Dark Knight massacre in Colorado spurred him to find a way to show that the NRA doesn't completely own the ballot. Now Wolfson has the money — and just three weeks — to try to prove him right. Bloomberg's help might provide the victory margin in a handful of races this November. But to have meaningful impact, especially on guns, he'll need to make this Bloomberg 2012 mini-campaign an annual event — and to turn himself into the centrist version of the Koch brothers.