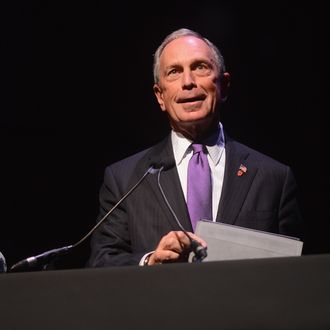 Photo: Jamie McCarthy/2012 Getty Images
Extremely wealthy outgoing mayor Michael Bloomberg believes raising taxes on the wealthiest New Yorkers "is about as dumb a policy as I can think of," he said today, according to Capital New York. The crop of mayoral candidates for 2013 have all proposed some version of an increase, including Public Advocate Bill de Blasio, who proposed a tax hike on those making more than $500,000 a year with hopes of funding new pre-kindergarten programs. "Well if you want to drive out the 1 percent of the people that pay roughly 50 percent of the taxes, or the 10 percent of the people that pay 70-odd percent of the taxes, that's as good a strategy as I know," Bloomberg ranted. "That's exactly the ways to do it, and then our revenue would go away, and we wouldn't be able to have cops to keep us safe, firefighters to rescue us, teachers to educate our kids." The city will literally be overrun by zombie peasants.
As De Blasio pointed out on Twitter, Bloomberg didn't always feel that way. "I can only tell you, among my friends, I've never heard one person say I'm going to move out of the city because of the taxes. Not one. Not in all the years I've lived here," Bloomberg explained in 2008, when David Paterson expressed the same fear the mayor is now peddling. "You know, they can complain, 'Ugh, I got my tax bill, it's heavy.' But my friends all want to live here," Bloomberg said a few years back.
And it's not as if the rich have really suffered, relatively, in the time since: The wealthiest people in Manhattan made 40 times more than the poorest last year.