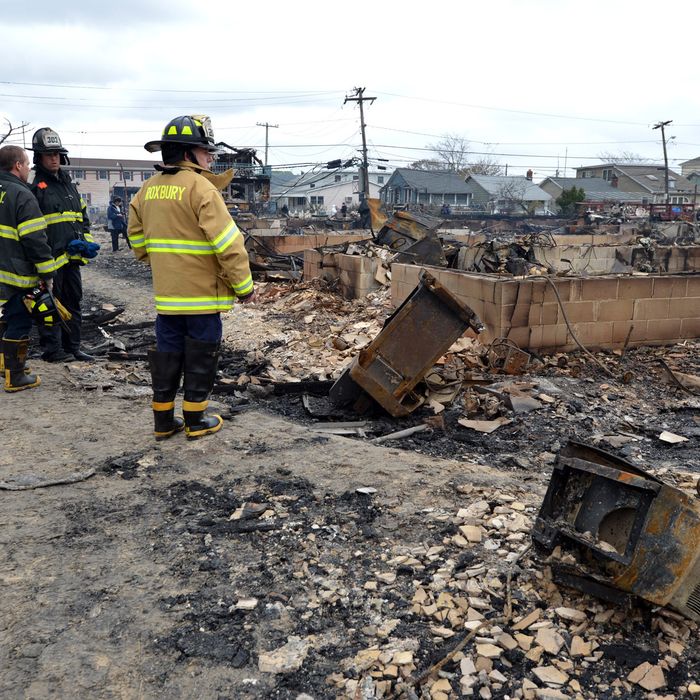 Photo: STAN HONDA/AFP/Getty Images
While much of lower Manhattan remains dark, soggy, and now clogged with traffic, it's the outer boroughs that may have gotten the worst of Hurricane Sandy. Out near the Rockaways, Breezy Point, Queens, is a neighborhood firefighters helped to build a century ago, but a combination of water and fire destroyed more than 100 homes on Monday, making for an apocalyptic scene.
"We expected a flood and we got a fire," Rockaway Point firefighter Bill Valentine told the New York Times. "In my career I've never seen anything like it and I've got 34 years on the job," said deputy assistant chief Jack Mooney. "Foundation after foundation after foundation — chimneys are all that's standing." Wind from the storm kicked up the flames, and flooded streets left fire trucks stranded in the distance.
Gothamist has more frightening photos, while footage of the destruction makes disaster movies look realistic:
Among those who lost their homes were state representative Bob Turner and Conservative Party chairman Mike Long, and the local St. Genevieve's Catholic Church was also destroyed. Somehow, there were no serious injuries.