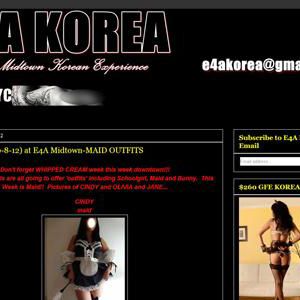 One of Thomas's alleged websites.
The distant, ice-cold resiliency of high-schoolers is a thing to behold, especially online. Following the bust of Brooklyn father of four William Thomas, who police allege ran four Asian fetish brothels, his eleventh-grade son did what all teenagers do after, and even during, a major event: He took to Twitter. (The accused's own account, which boasted about his "entrepreneurial spirit," has been made private.) "hey look my dad's in the news!" the kid wrote last night, linking to a story of the elder Thomas's arrest. "awesome dad! way to make the thomas family proud." Then he tweeted about the debate and Monday Night Football.
"my dad is the upcoming story on nbc news if anyone wants to watch … ," said the son, who just last week posted photos of himself and his father at Barclays Center and visiting the set of CBS News. "pretty surreal to hear your dad's name on the news in connection to a massive prostitution ring bust," he added. "had to happen eventually i guess ‪#meh‬." Meh!
The son then proceeded to live-tweet the presidential debate ("romney has got binders full of teachers") before waking up this morning to find the tweets about his dad quoted in a New York Post story. "hey new york post, next time you want to use my tweets in a front page story i want compensation," the teenage Thomas wrote. "or just ask my permission." Presumably a lawyer will let him know today that these messages are public.