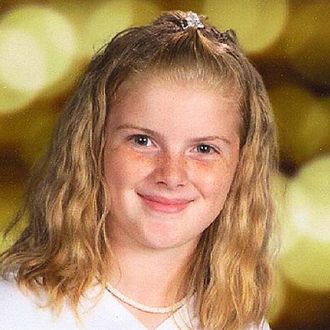 Photo: Clayton, N.J. Police Department
The teen brothers charged in the New Jersey killing of 12-year-old Autumn Pasquale, allegedly over her BMX bike, could not stay off Facebook even after the girl went missing. Yesterday, the Post reported that the mother of Justin and Dante Robinson turned in her kids after noticing a Facebook message from one boy reading "might be moving." Now the tabloid is back with more unsettling interactions on the social network: Fifteen-year-old Justin simply wrote "Autumn" on the page of the victim's brother after she disappeared.
"Why post her name then nothing else?" someone commented. "It was an accident the cop waz here & my brother did it," Justin replied.
He went on to ask Autumn's brother if dogs were being used in the search, and when told they were, he answered, "thts good."
The all-encompassing way kids use Facebook may seem like the stuff of the evening news and paranoid Dateline specials, but this case provides a tragic example of the site's ubiquity in their lives. The suspects, who lived down the block and had a reputation for stealing bikes, dealt directly with Autumn on Facebook days before she went missing, the Star-Ledger reports. "Is that ur bike?" she wrote on a photo of Justin's BMX. "Thts sexy!" Justin replied, "lol thxx," and then, "cme 2 my house." In addition to murder, he's also been charged with luring.