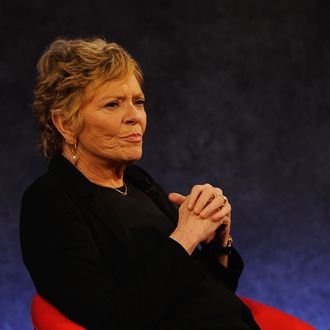 Linda Ellerbee isn't amused.
Photo: Larry Busacca/2011 Getty Images
Much like the first ladies' cookie recipe contest, Nickelodeon's "Kids Pick the President" special is a tradition that dates back to 1992, which candidates must participate in or risk being called anti-family. For some reason, Mitt Romney decided to take that chance, telling host Linda Ellerbee that he's too busy to provide prerecorded answers to a few questions submitted by children, though the Washington Post notes that it, "takes about 30 minutes for a candidate to participate." Ellerbee says Romney has "dissed" children who wanted to get involved in the democratic process, adding that he, "also blew off Letterman and Big Bird, so I guess we're in good company." Obama, who taped his responses at the White House last month, could have left things there and been declared the more kid-friendly candidate by default. Instead, his campaign decided to lob a few playground-worthy insults at Romney.
On Monday Deputy National Press Secretary Adam Fetcher told TMZ, "It's no surprise Romney decided to play hookey. Kids demand details, and I'm sure they want some answers on why Romney could increase their class sizes, eliminate their teacher's jobs, raise taxes on their families and slash funding for Big Bird." He added, "'The dog ate my homework' just doesn't cut it when you're running for President." Campaign spokesman Ben LaBolt added on Twiter, "Romney backs out of Nickelodeon appearance, apparently couldn't handle qs from kids." Romney has yet to issue a response, but Obama staffers should expect to find some nasty notes in their lockers.