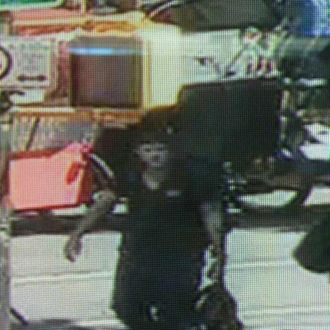 Surveillance photo of the suspect.
Police say that after beating and raping a 73-year-old bird watcher in Central Park last month, David Mitchell, a 42-year-old homeless man, sexually assaulted two more women. At his arraignment today, prosecutors said that Mitchell groped a second woman on West 70th Street and Broadway around 1:15 p.m., and then a third woman on West 71st Street and Broadway. The Daily News reports that he was finally apprehended around 8 p.m. when three rookie cops recognized him from a description. He then racked up even more charges, telling officers during his arrest, "I'm going to spit in your face. I'm going to punch you in the face. I'm going to s— and piss in the van."
Mitchell was charged with sexually assaulting two other elderly women in the past, and spent much of his life in prison. He's also accused of threatening performance artist Ayrton Ferreria dos Santos in August, telling him he'd fill the park's "Imagine" mosaic with his blood. "He pulled a 6-inch shank on me," said dos Santos. "It all happened over a joint." According to the Post, Mitchell pleaded not guilty to all charges.