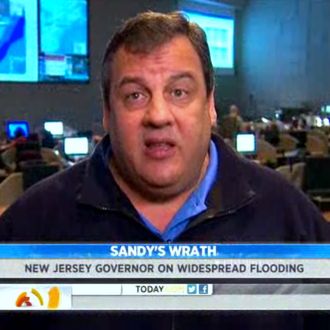 Doesn't give a damn about making Obama look amazing.
Photo: NBC
"The president woke me up one time," New Jersey Governor Chris Christie, a top surrogate for Mitt Romney, said at a press conference this morning, "which is fine, he gets to." In fact, Christie made his appreciation for President Obama's hands-on management during Sandy abundantly clear this morning. 
"The federal government's response has been great. I was on the phone at midnight again last night with the President, personally, he has expedited the designation of New Jersey as a major disaster area," Christie, a top surrogate for Republican presidential candidate Mitt Romney, said on NBC's "Today."

He added, "The President has been outstanding in this and so have the folks at FEMA."

On MSNBC's "Morning Joe," Christie was equally laudatory, saying "the President has been all over this and he deserves great credit." Obama, he said, "told me to call him if I needed anything and he absolutely means it, and it's been very good working with the President and his administration."
If this Chris Christie is unrecognizable to you, don't worry — he was his usual blunt, combative self yesterday when it came to Lorenzo Langford, the mayor of Atlantic City. But what to make of Christie's lavish praise for Obama? A major crisis can act as a positive or negative turning point for a president, depending upon public perception of how it was handled. September 11 was a boon to George W. Bush's approval ratings; Hurricane Katrina, not so much. 
Now here we are, in a tied presidential race a week away from election day — a race in which Romney has worked tirelessly to portray Obama as a failed leader — and Christie is extolling Obama's leadership from the hilltops. 
Some might conclude that Christie is looking out for his own political future (again?), either as a Republican governor running for reelection in a blue state or as a straight-talking Republican presidential candidate hoping to win the support of independents. Or it may be that Christie, as he told Fox & Friends this morning, just doesn't "give a damn about presidential politics" right now. But Romney surely still does, and he probably wouldn't mind if Christie toned it down a bit.