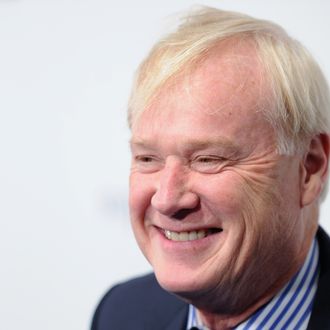 A man with many layers.
Photo: Dimitrios Kambouris/Getty Images
Subtlety may be the last thing that comes to mind when you think of MSNBC's Chris Matthews, but it's precisely what Matthews feels is missing from his Saturday Night Live portrayal. "It's not exactly accurate, but it is funny," he told us over the weekend at Comedy Central's Night of Too Many Stars autism research benefit. "I think I am not as loud as they have me. I think I am a little more subtle than those guys are. But Jason plays me loud. I think it's all good."
Reservations aside, Matthews does seem to acknowledge that he is at least somewhat loud. So, where does all that energy come from anyway? we wondered. "If you only knew," he said. "If you only knew." Tease.