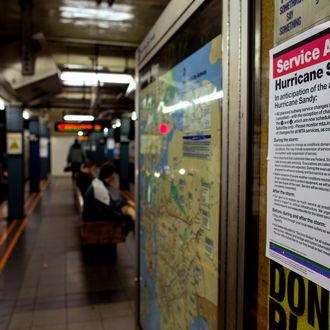 (AP/Craig Ruttle)
Photo: Craig Ruttle
Sometime tomorrow, a storm surge from Hurricane Sandy is expected to race through New York Harbor, flooding streets, low-lying areas, and likely the subway tunnels. One 2011 state report suggests that a coastal storm flooding large swathes of the subway system in less than an hour could cost up to $58 billion in economic damages (and lost revenue) and — more disturbingly for the general population —  leave New York public transit system out of commission for up to a month. The man who wrote that section of the report is Dr. Klaus H. Jacob, a climate scientist at Columbia University's Lamont-Doherty Earth Observatory. He told Daily Intel that such a scenario may be just around the corner. "If [Sandy] arrives at the high tide, then what we will have Monday late evening will come close to the scenario that is described in that report," he said. (A full moon is expected at 7:49 p.m. tomorrow, meaning high high tides.) "If it is off by a few hours, then I think we will see some subway flooding but not the full scenario."
We may not know which of those two scenarios we face, however, until just hours before the storm hits. "Sandy is a very moody storm," Dr. Jacob added. "It changes its mind as it goes along, so it will take probably until tomorrow or early afternoon before we know exactly what the exact timing will be."
Regardless, it seems like we're in for some subway flooding. According to Dr. Jacob, the most vulnerable subway stations are those in downtown Manhattan, particularly along Wall Street — newswire photographs showed transit workers boarding up subway grates near the Staten Island Ferry on Friday — as well as on the Upper East Side near the Harlem River, and near the Newton Creek boundary between Brooklyn and Queens.
Besides the subway, car tunnels, coastal streets, and even the airports should expect flooding from a Category 1 hurricane, according to one city report. Both LaGuardia and JFK airports, where serious delays and travel disruptions are already expected, may experience as much as three feet of flooding.
The city has prepared as best it can, Dr. Jacob believes — including Governor Andrew Cuomo's recent announcement that the MTA will suspend all subways, buses, and commuter trains as of 7 p.m. tonight — "but preparation is not protection." The city would have to invest billions to secure the system against future coastal hurricanes, tropical storms, and nor'easters. How many billions, exactly? "One billion dollars will probably not fix the whole system," Dr. Jacob estimated. "Ten billion dollars might, but this is something that cannot be done on the fly. That will take a decade to engineer.

"Where that money comes from I don't know. One thing I know for sure: For every dollar that you spend today, you probably save $4 of not incurred costs later."
Some of Dr. Jacob's admirers have said that some of his work on this subject has turned him into a sort of modern-day climate change Cassandra, but he doesn't have time for worrying about labels: "It's not about me," he told Daily Intel in a follow-up e-mail. "It's about our entire society we need to be concerned and their sustainability in the face of climate change and sea level rise, in particular in coastal areas." Like, for example, New York City, with its eight million inhabitants and 468 subway stations.