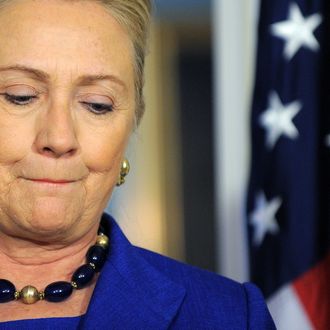 Hillary Clinton has insisted for quite some time now that she won't run for president in 2016, and intends to step down as secretary of state at the end of Obama's current term. However, she's never quite kicked her old habit of issuing firm denials about her political future, then adding a quip that leaves the door ever so slightly ajar. In a new Wall Street Journal profile she reverts to this strategy when asked about both major career decisions on the horizon. First, Clinton says that it's "unlikely" that the situation in Libya will push back her departure date, but then she suggests she might be willing to stay on as secretary of state a bit longer. "A lot of people have talked to me about staying," Clinton says, refusing to elaborate.
When asked about a 2016 presidential bid, Clinton says definitively, "I have ruled it out." "It's important for me to step off this incredibly high wire I've been on," she says, "to take stock of the rest of my life." Then she adds the cryptic remark, "I will always want to be in service to my country." So either she's signaling that she's open to being drafted into the presidential race in four years, or she's planning to volunteer at a soup kitchen during her retirement.
Clinton is more forthcoming about how close she and President Obama have become over the past four years. The two have started exchanging personal, yet surprisingly mundane gifts (she got a personalized iPad cover, he got an espresso machine), and the paper notes that at a service honoring those killed in Libya, Clinton held the president's hand after his remarks, and he put his arm around her waist as they left the podium. "I know probably better than anyone … the difficult issues and hard questions he has to grapple with," says Clinton.