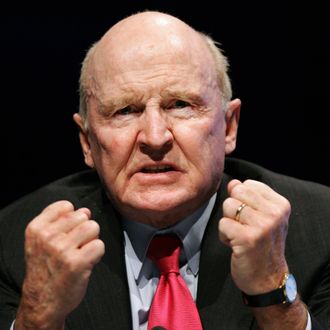 Former General Electric chairman Jack Welch gestures as he speaks on 04 November 2005 during the "World Business Forum" in Frankfurt/M. The World Business Forum is a symposium featuring eminent leaders and thinkers speaking on topics of the utmost importance to the business community.
Photo: THOMAS LOHNES/AFP/Getty Images
The Thomson Reuters/University of Michigan consumer sentiment index, a survey that has been measuring Americans' confidence in the economy since 1946, has jumped to 83.1, its highest level since September 2007. Which can only mean one thing: The economy is actually improving The conspiracy to get Obama reelected goes deeper than even Jack Welch realized. May God protect us all.