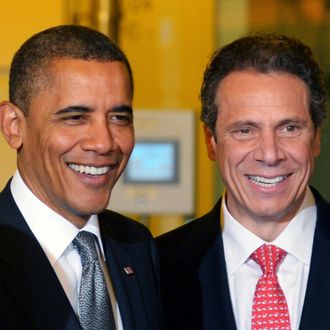 Photo: Mandel Ngan/AFP/Getty Images
Don't get it twisted, Andrew Cuomo insisted yesterday, because last-minute national appearances for Barack Obama do not mean the New York governor is running for president in 2016. "I'll do whatever they ask me to do," said the very popular, bipartisan Cuomo, who will travel to swing states in support of the president's reelection. "But I don't want to step over a line that could fuel potential speculation of, 'Well, Cuomo's looking to run in 2016,' you know?" Oh, we know. But still!
Cuomo has maintained an extremely low-profile so far this election cycle, even requesting a mere cameo at the Democratic National Convention. He's no Chris Christie.
But Cuomo did appear as an Obama cheerleader in the spin room after Tuesday's presidential debate at Hofstra on Long Island. "I thought [Obama] was perturbed when he should be perturbed. I thought he was aggressive when he should be aggressive," Cuomo said, adding "the president is masterful in these performances."
Now he's taking that show on the road, but with reservations, and no personal ambition. "If you politicize me, you cast aspersion on my motivations and intent; you suggest I have my own political agenda for doing things; you're going to hurt my capacity and ability to serve as governor," he told Fred Dick on the radio yesterday. "And I just won't allow that to happen."
"I want to make clear," he stressed. "What I'm doing, I'm doing as a surrogate, a responsible surrogate for President Obama." Any national recognition that results is pure coincidence.