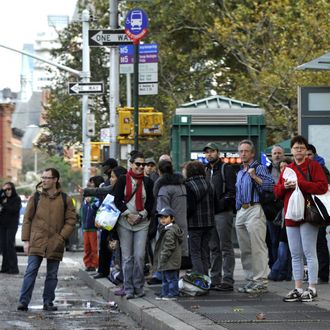 Photo: TIMOTHY A. CLARY/AFP/Getty Images
At a press conference on Wednesday night, Governor Cuomo declared a "transportation emergency" and said that all fares on New York City subways and buses, as well as Metro-North and the Long Island Rail Road, will be waived on Thursday and Friday. Cuomo said the goal is to reduce traffic in the city, which "was very high and the gridlock was dangerous." Still, he warned, "The service in many cases is limited, the service in many cases will be crowded." He was right.
Thursday morning has been another miserable commute for New Yorkers in the wake of Hurricane Sandy, with traffic snarled from before the sun came up on just about every bridge, tunnel, and turnpike approaching Manhattan. The Midtown, Brooklyn-Battery, and Holland tunnels are still closed due to flooding, but the Army Corps of Engineers is working with 250 high-speed pumps to help drain them.
Yesterday, Mayor Bloomberg declared that there must be at least three passengers in any car entering Manhattan via bridge or tunnel from 6 a.m. to midnight, except on the George Washington Bridge. And he meant it, the Times reports:
It wasn't until he reached the Ed Koch Queensborough Bridge at around 6 a.m. that Jason Freire, 29, learned that if he didn't have at least two other passengers in his car, he couldn't cross.

"A police officer looked in my car and told me I couldn't cross until I got two more people," said Mr. Freire, who works with the homeless in East Harlem, documenting their whereabouts and directing them away from the East River Promenade to shelters. He ended up parking and taking the subway, which began running from Queens into Manhattan around 5:30.
Public transportation has its own issues. The MTA started testing subway service on Wednesday, and at 6 a.m. this morning, 14 of 23 subway lines started running again — though not below 34th Street, due to flooding and power outages. (Here's a PDF map of which lines are functioning.) The working trains are getting good reviews, though, with one man tweeting, "N train. Flawless. Felt faster than usual from 59th to Times Sq. I'm irrationally excited."
But without those options, Thursday morning was yet another adventure, to put it optimistically. Because flooding and power outages are preventing trains from making it under the East River, MTA Chairman Joe Lhota announced a "whole flotilla" of buses shuttling Brooklynites to Manhattan from Barclays Center, Metrotech at the Jay Street terminal, and in Williamsburg at the Hewes station. Gothamist has photos of the lines — they're a mess: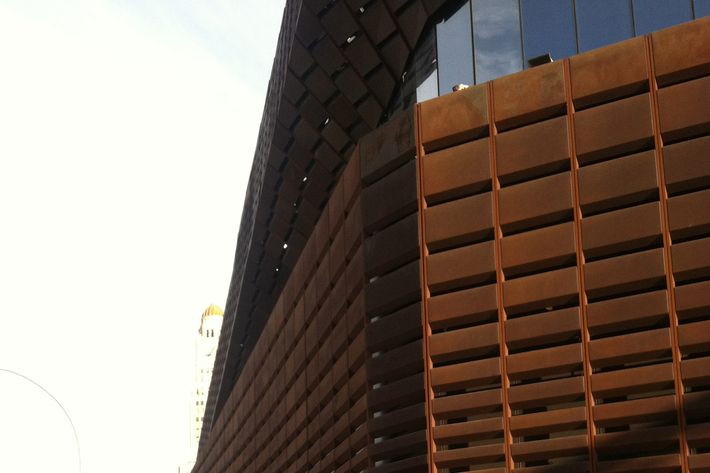 Lhota said he expects there to be more service restored by Friday and asked New Yorkers to be understanding as the city muddles through "what I've described as the most devastating event to ever happen to the MTA." All things considered, we're doing all right. Your boss will understand if you're a bit late.
This post has been updated throughout.