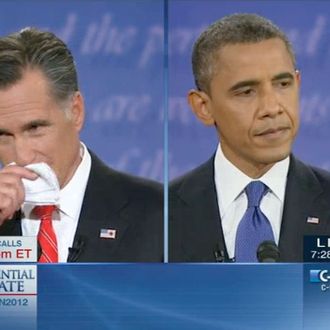 Just as George W. Bush was accused by Internet sleuths of wearing a wire during a 2004 debate with John Kerry, online paranoids have decided that Mitt Romney must have cheated to win Wednesday's presidential face-off. A slow-motion YouTube clip circulating today shows Romney removing something from his pocket as he approaches the podium, and if it were pre-written zingers, that would be a violation of the debate's "no props, notes, charts, diagrams, or other writings" rule. That theory has been floated by the usual suspects of left-leaning message boards, including Democratic Underground, Daily Kos, and Reddit, but even made its way to CBS Boston. Juicy! Except it was a handkerchief.
Here's the "evidence," which appears white — like paper! — but floppy like, say, a napkin:
Romney can be seen in the video below grabbing the cloth from the podium and wiping sweat from his face with a white handkerchief, as pictured up top, while Obama begins his closing statement:
Romney press secretary Andrea Saul confirms the obvious: "Yes, it was a handkerchief." Sorry, sore losers — the well-executed fibbing was all from memory.