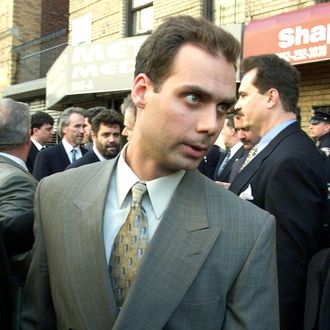 New York City police officer Kenneth Boss makes his way through the crowd from the Bronx Courthouse to address the press 31 March, 1999 in New York. Boss and three other officers have been charged with second degree murder for shooting 41 times and hitting 19 times 04 February 1999 Amadou Diallo, a street vendor from Guinea.
Photo: Don EMMERT/AFP/Gettu
The infamous shooting took place thirteen years ago, and Officer Kenneth Boss, still on the force, has been trying to win back the right to carry a gun ever since. "It was unclear why [Commissioner Ray] Kelly suddenly changed his mind," the Post reports.