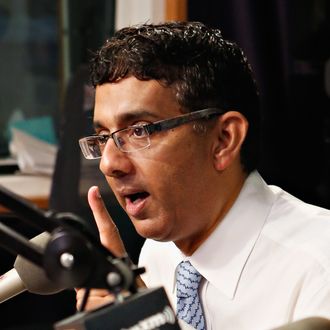 If anyone had said anything to me at all that that sort of thing was frowned upon…
Photo: Cindy Ord/Getty
Anti-Obama crusader Dinesh D'Souza has resigned his position as president of the evangelical King's College in Manhattan two days after World magazine reported that he was engaged to his (much younger) girlfriend while still married to (but separated with) his wife of twenty years. However, despite the resignation, the only transgression that D'Souza cops to is an unfamiliarity with what Christianity expected of him in this situation. In a classic Costanzian plea of ignorance ("Was that wrong? Should I not have done that?"), D'Souza tells Christianity Today:
"The thing I will admit: I did not have any idea that it is seen as wrong in Christian circles to be engaged prior to being divorced even though separated. … That was a true error of judgment, but it was truly a case where I didn't know better."
According to the Daily Beast, the board of King's College was growing increasingly unhappy with D'Souza for some time before the scandal broke, as he had been shirking his duties as president (which earns him a salary of $1 million a year) in order to focus on promoting his anti-Obama film, 2016: Obama's America. But all that aside, not knowing what is "wrong in Christian circles" seems like a pretty good reason to not be the president of a Christian college.