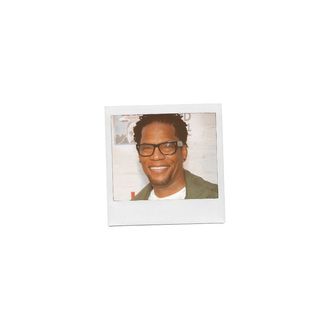 Name: D.L. Hughley
Age: 49
Neighborhood: Tribeca
Occupation: Comedian. His new satirical documentary special DL Hughley: The Endangered List premieres tomorrow, October 27, at 11 p.m. on Comedy Central.
 Who's your favorite New Yorker, living or dead, real or fictional?
Bumpy Johnson, a bootlegger.
What's the best meal you've eaten in New York?
A place called Forge. An amazing roast of wild boar, and a blueberry cobbler for dessert.
In one sentence, what do you actually do all day in your job?
Try to bullshit my way through in life
What was your first job in New York?
An AT&T commercial with Johnnie Cochran.
What's the last thing you saw on Broadway?
The last will be the first thing I see! — I'm looking to see Book of Mormon.
Do you give money to panhandlers?
I haven't seen one in a while, but I'm looking forward to it. Not sure if I would or not. 
What's your drink?
Red wine or a very dirty Double Cross martini.
How often do you prepare your own meals?
If by "preparing," you mean going down to Whole Foods and picking out my salmon, then that was last week!
What's your favorite medication?
Marijuana.
What's hanging above your sofa?
A picture of me performing in San Francisco.
How much is too much to spend on a haircut?
Since I have natural hair, anything over $50.
When's bedtime?
When my body just can't go anymore. I often lapse into comas.
Which do you prefer, the old Times Square or the new Times Square?
Old Times Square: It had more character. And by "character," I mean "fear factor."
What do you think of Donald Trump?
I think he personifies class, sincerity, and integrity — *cough *cough — "Bullshit!"
What do you hate most about living in New York?
The winter.
Who is your mortal enemy?
Dennis Miller.
When's the last time you drove a car?
About two weeks ago, to get it gassed and car-washed.
How has the Wall Street crash affected you?
Well … I won't open the envelopes from my investment firm about my retirement funds.
Times, Post, or Daily News?
The Times.
Where do you go to be alone?
In my head.
What makes someone a New Yorker?
The ability to suspend reality.