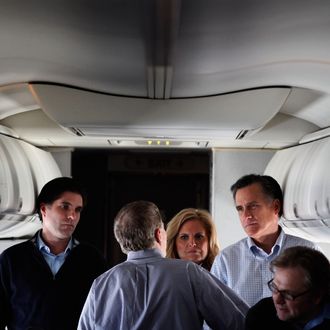 That's it! You've earned yourself a time out, mister.
Photo: Chip Somodevilla/2012 Getty Images
While staff shake-ups are common when campaigns run into trouble, Mitt Romney has remained unusually loyal to his team. The Wall Street Journal reports that this may be due to his habit of putting staffers in a "penalty box." The paper notes that after major screwups, advisers tend to disappear from the campaign trail for a time. After Rick Gorka cursed at reporters over the summer, he was sent to visit his girlfriend in New Jersey. When anonymous staffers told Politico that Romney's campaign missteps could be traced to Stuart Stevens, the chief strategist headed to Boston to work on TV ads. Senior adviser Eric Fehrnstrom took time off after making his infamous Etch A Sketch remark and saying the health care mandate wasn't a tax, but he still had a job when he returned (albeit one with less press interaction). Yet for some reason, Romney staffers object to the suggestion that they're disciplined like children.
Stevens denied that the policy exists, saying, "The Romney campaign is an all hands on deck, 24/7 sort of operation and this description is simply not accurate in any regard," though it actually makes Romney sound pretty generous. Especially in light of his "I like being able to fire people" gaffe, Romney should let voters know that he merely sends employees to New Jersey to think about what they've done.