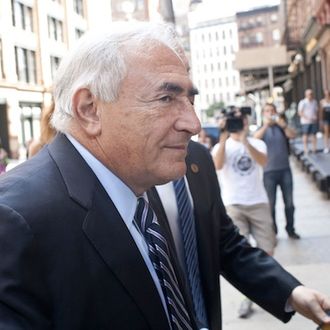 As Dominique Strauss-Kahn mounts his comeback in French public life, his criminal troubles look to be surmountable. Prosecutors have already dropped a sexual assault case against him this month, and his lawyers told the New York Times they thought he would prevail over the aggravated pimping charges he faces in relation to the "Carlton Affair." Strauss-Kahn's defense: Prosecutors are trying to "criminalize lust" by accusing him of helping book prostitutes when he was really an unwitting customer. The Times' latest reporting dishes out some fresh details of the extent of that lust, and one thing is clear: It's a good thing for Strauss-Kahn that being horny isn't a crime, because he'd be Professor Moriarty.
Strauss-Kahn has already said he participated fairly regularly in "libertine parties," where orgies were something of an inevitability. And his biography's account of his tryst with maid Nafissatou Diallo in a New York hotel last year (he claims "he couldn't resist a moment of pleasure" after she shot him a lustful look) suggests he's used to having sex at the drop of a hat. The Times' new reporting makes it sound like you'd run out of hats before DSK got tired of getting laid.
The exclusive orgies called "parties fines" — lavish Champagne affairs costing around $13,000 each — were organized as a roving international circuit from Paris to Washington by businessmen seeking to ingratiate themselves with Mr. Strauss-Kahn. Some of that money, according to a lawyer for the main host, ultimately paid for prostitutes because of a shortage of women at the mixed soirees orchestrated largely for the benefit of Mr. Strauss-Kahn, who sometimes sought sex with three or four women.
In an interview with the French magazine Le Point last week, Strauss-Kahn said, "there are a lot of parties for that in Paris, and you'd be surprised by the people you meet there." He also changed his tune about what happened in that New York hotel room last year (something he once called a "moral failing"). His latest take: "The important thing is that what happened in that room broke no law. The rest is no one else's business." But Strauss-Kahn wasn't always so discreet. When he was arrested in New York, two acquaintances considered selling the story of "a freewheeling luncheon in 2009 at a Paris restaurant called L'Aventure," the Times reports.
At L'Aventure, Mr. Strauss-Kahn and a few friends gathered in a private basement club, carpeted in purple and black tiger stripes, with a female Belgian escort and Mr. Alderweireld's companion, Béatrice Legrain, who recalled that lunch in an interview.

She said that Mr. Strauss-Kahn, energized by Viagra, had sex with the escort and then followed Ms. Legrain to the bathroom, grabbing her and demanding sex. But she said she rebuffed him and it "wasn't a big deal." Mr. Strauss-Kahn's lawyer declined to comment.
Strauss-Kahn said in his Le Point interview that he'd been "naive" to think he could be a libertine in private without any "impact on the exercise of my responsibilities." Boy, was he right.