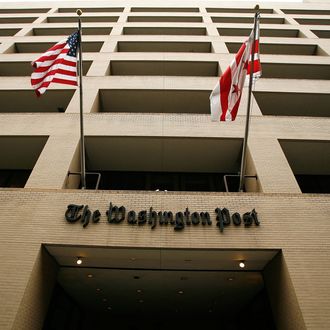 Photo: Alex Wong/2009 Getty Images
The metaphor potential was glaring today when news came out that the struggling Washington Post Company is acquiring a majority stake in a health-care and hospice firm. It's no secret that newspapers aren't exactly cash cows these days, and while the Post Company has relied previously on its Kaplan education business, government regulation has cut into those profits as well, leaving sickness and death as good a bet as any. But the Post isn't alone when it comes to unfortunate juxtaposition and an easy setup for jokes with media companies desperate for a new racket.
It was only a few months ago, after all, that the New York Times Company ditched its remaining shares of the Fenway Sports Group, owners of the hated Boston Red Sox. Locals may finally forgive them after the season Boston's had.
Gannett, which owns USA Today and a host of other local papers, is having its own problems with print, but its CareerBuilder job site is doing just fine, thanks in part, probably, to all the newspaper employees out of work.
And while the classy Condé Nast, publisher of The New Yorker and Vogue, likes to mostly ignore its dirty little cousin Reddit, the Internet geeks are helping to speed along the de-professionalization of journalism and topped 3 billion page views last month, while scoring an interview with Barack Obama.
The Washington Post Co., in corporate-speak, called its hospice investment part of an "ongoing strategy of investing in companies with demonstrated earnings potential and strong management teams attracted to our long-term investment horizon," teasing be damned. We can only hope that Buzzfeed, somewhere down the line, straight-up buys a petting zoo.