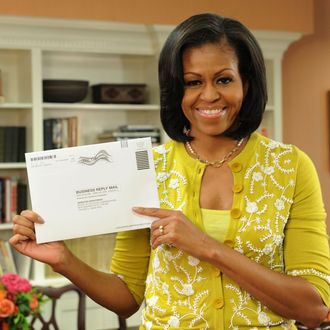 But who did she vote for?
Photo: OFA/Jocelyn Augustino?2012
Election Day may still be weeks away, but millions of procrastination-averse and/or line-averse Americans (including Michelle Obama) have already cast their votes via absentee ballots or in-person early voting (which differs from state to state). And though it's a small sample size, the early voting numbers have been offering some promising signs for President Obama so far.
A Reuters poll published over the weekend found that 59 percent of early voters marked their ballots for Obama, compared to only 31 percent for Romney. There are caveats, of course: The poll was based on the responses of only 361, and therefore has a credibility of plus/minus 10 percent, which is a lot.
A more solid omen comes in the form of some hard swing-state data. In Florida, absentee ballots so far have been 44 percent Republican to 40 percent Democrat. Which is actually good for the Democrats, compared to past years:
That four-percentage-point edge is down from 17 points that Republicans had at the same point during the 2008 presidential election.

"It's not time for panic, but I'm certainly concerned," said Dave Weldon, a former U.S. House member from Florida and chairman of Romney's social conservatives committee in the state.
Meanwhile, in Iowa, the early-vote makeup so far is 53 percent Democratic and 28 percent Republican, a huge disparity which, as the Washington Post notes, is even greater than in 2008, when Democrats "carried the early vote by 18 points and President Obama won the state by nine points."
The Romney campaign, rightly so, points out that it's early still, even by the standards of early voting:
First and foremost, only 5% of early voting has completed. In 2008, nearly 16,000,000 votes were cast before Election Day in the swing states.  So far this cycle, just over 950,000 votes have been cast – or 6.01%.  Therefore, 94% of all early votes have not even been cast yet.  To claim a "big advantage" based off of a phase that's just 6% complete is almost as absurd as predicting the outcome of a baseball game after the second out.
True, but Obama advantage so far is still important. The more votes that he "banks" now, the fewer votes he stands to lose if the economy slides or he turns in another terrible debate performance. Or two.