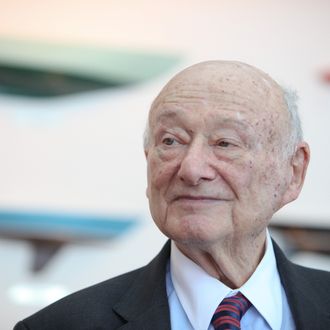 America's highest-profile swing voter?
Photo: JP Yim/2011 Getty Images
Ed Koch's relationship with the Obama campaign has been pretty loveless over the past few months. However, the former New York City mayor continues to tepidly support the president, despite their differences of opinion when it comes to Israel (among other things.) So, you can't blame Israel's richest cheerleader, billionaire Mitt Romney-backer Sheldon Adelson, for at least trying to get Koch on his team. During his traditional Saturday lunch circle, Koch recalled a recent visit Adelson made to his office. 
"His opening line was, 'People have told me you're the only person in the world that can elect Romney in Florida,'" Mr. Koch said. "I said: 'Don't be ridiculous. It is not true,'" he added. "I wanted to say, 'Well maybe it's partially true.'"
Adelson's reasoning is based on Koch's popularity among Jewish retirees, and it seems the visit wasn't entirely unprompted.  A former prosecutor at the lunch volunteered that he'd told a friend of Adelson's that Koch, who has cited health concerns as the reason he's stopped campaigning for Obama, might be swayed by a call from Romney himself. No news on whether Romney called the 88-year-old New Yorker, but it looks like a charm offensive is certainly afoot.